1969 Gibson Flying V Walnut RARE black headstock front!
1969 Gibson Flying V Walnut RARE black headstock front!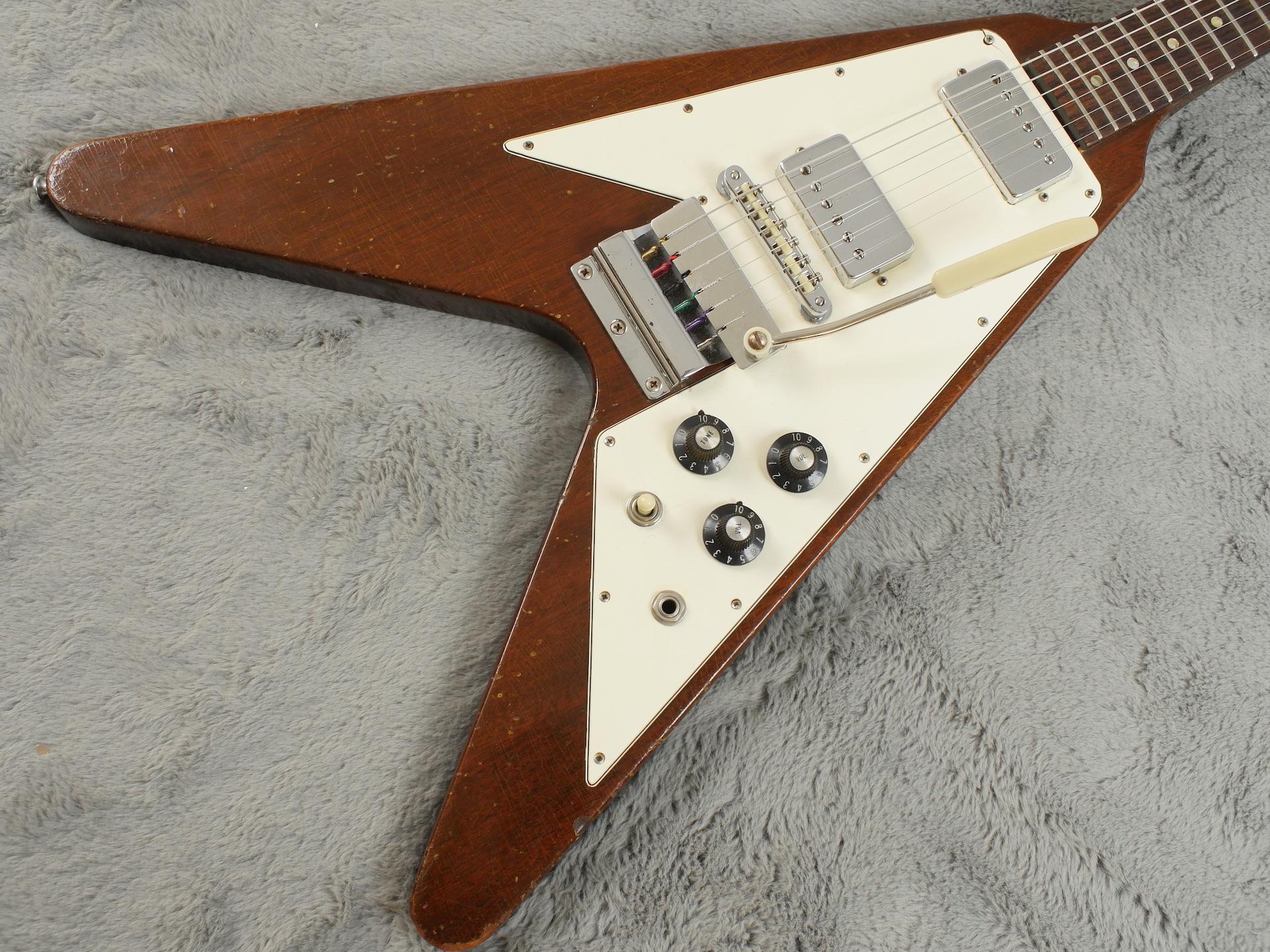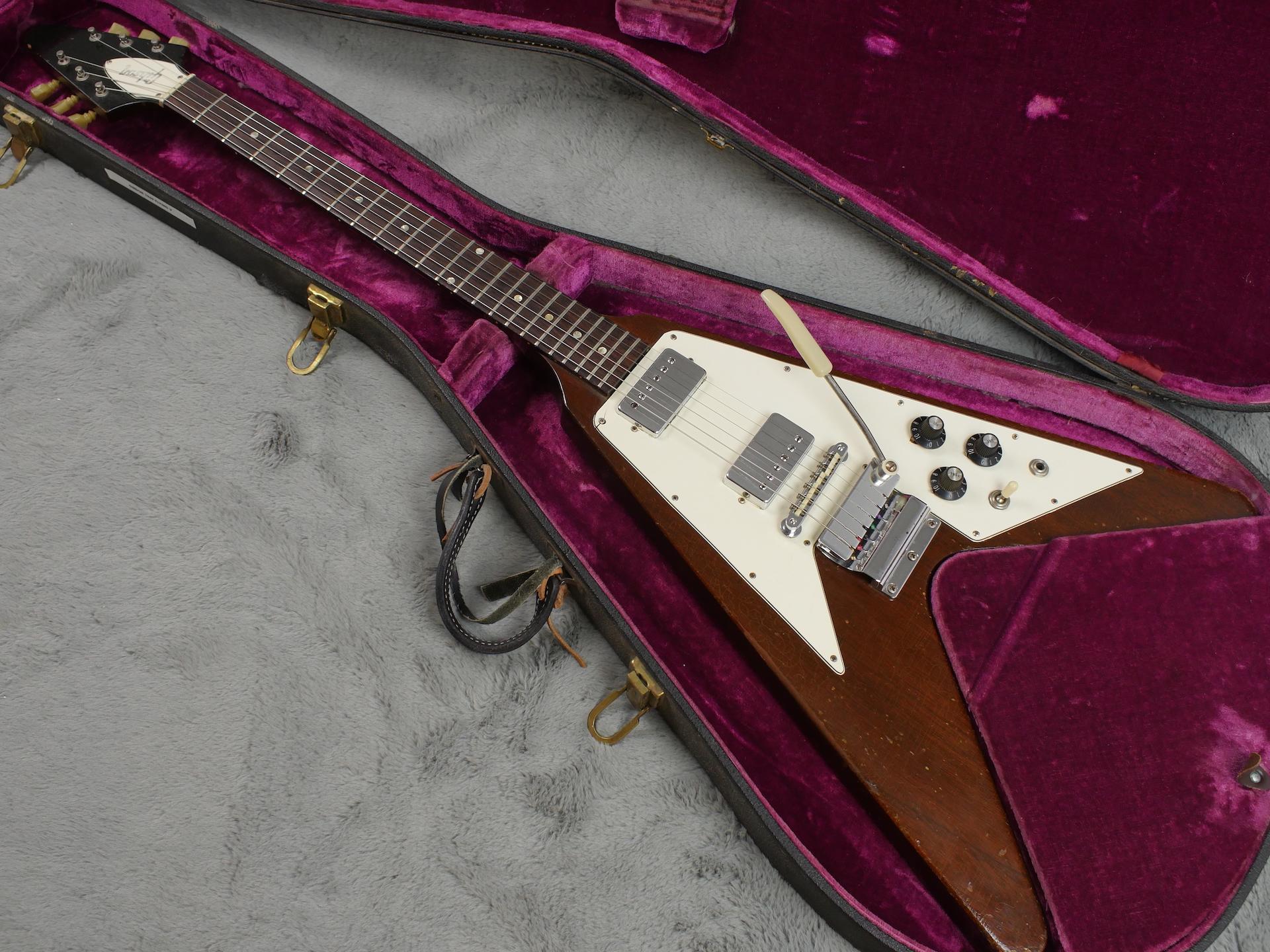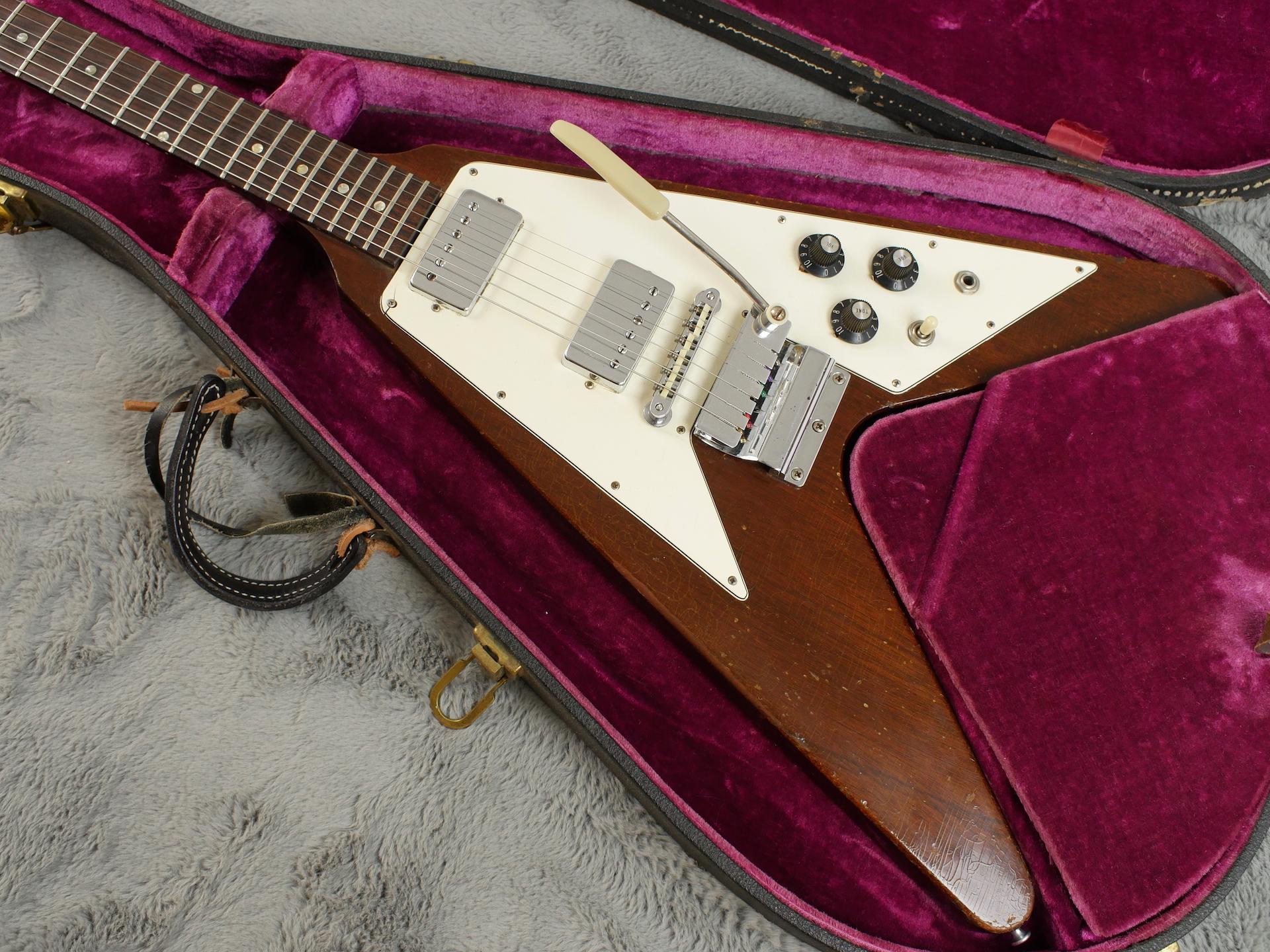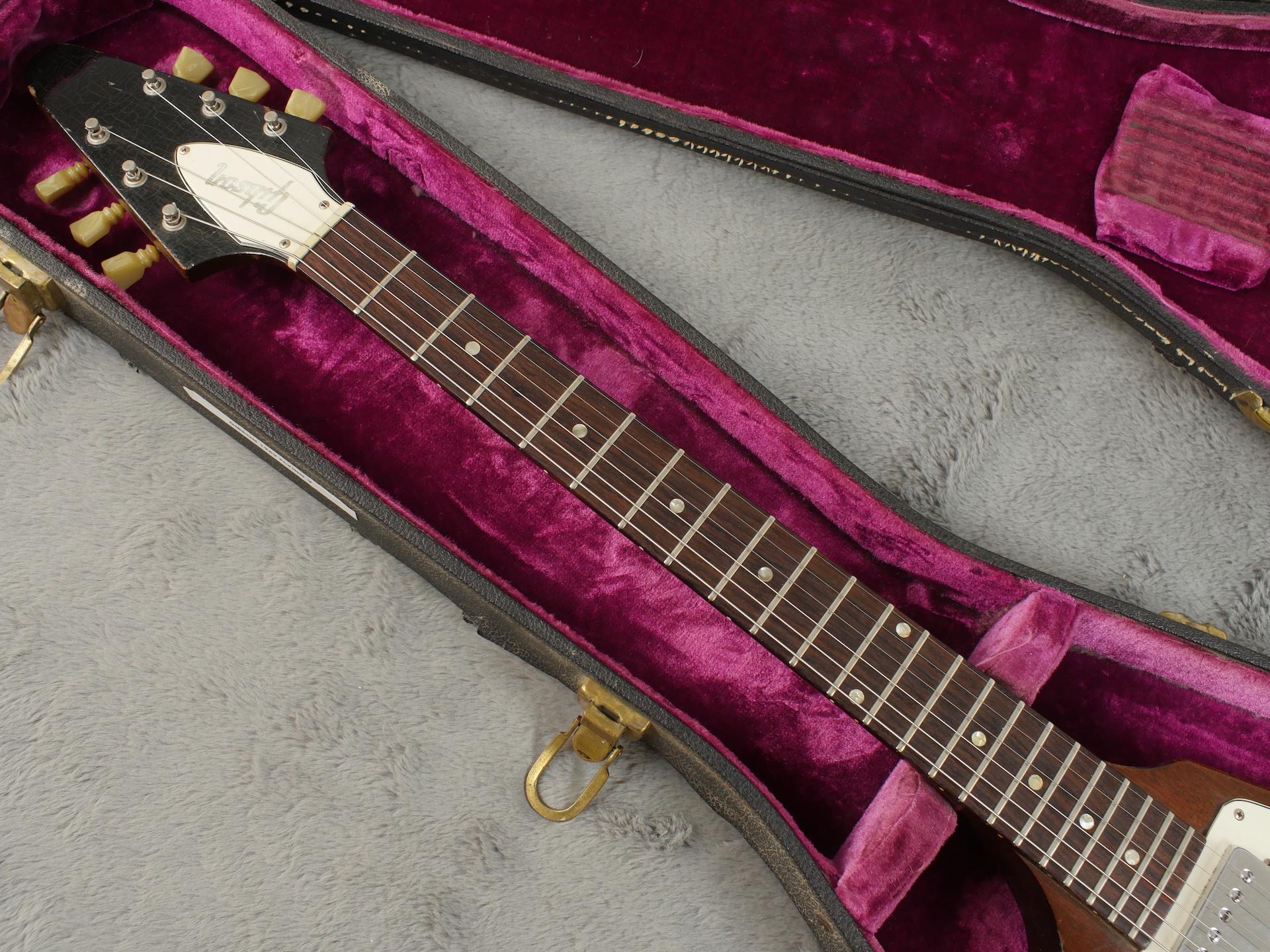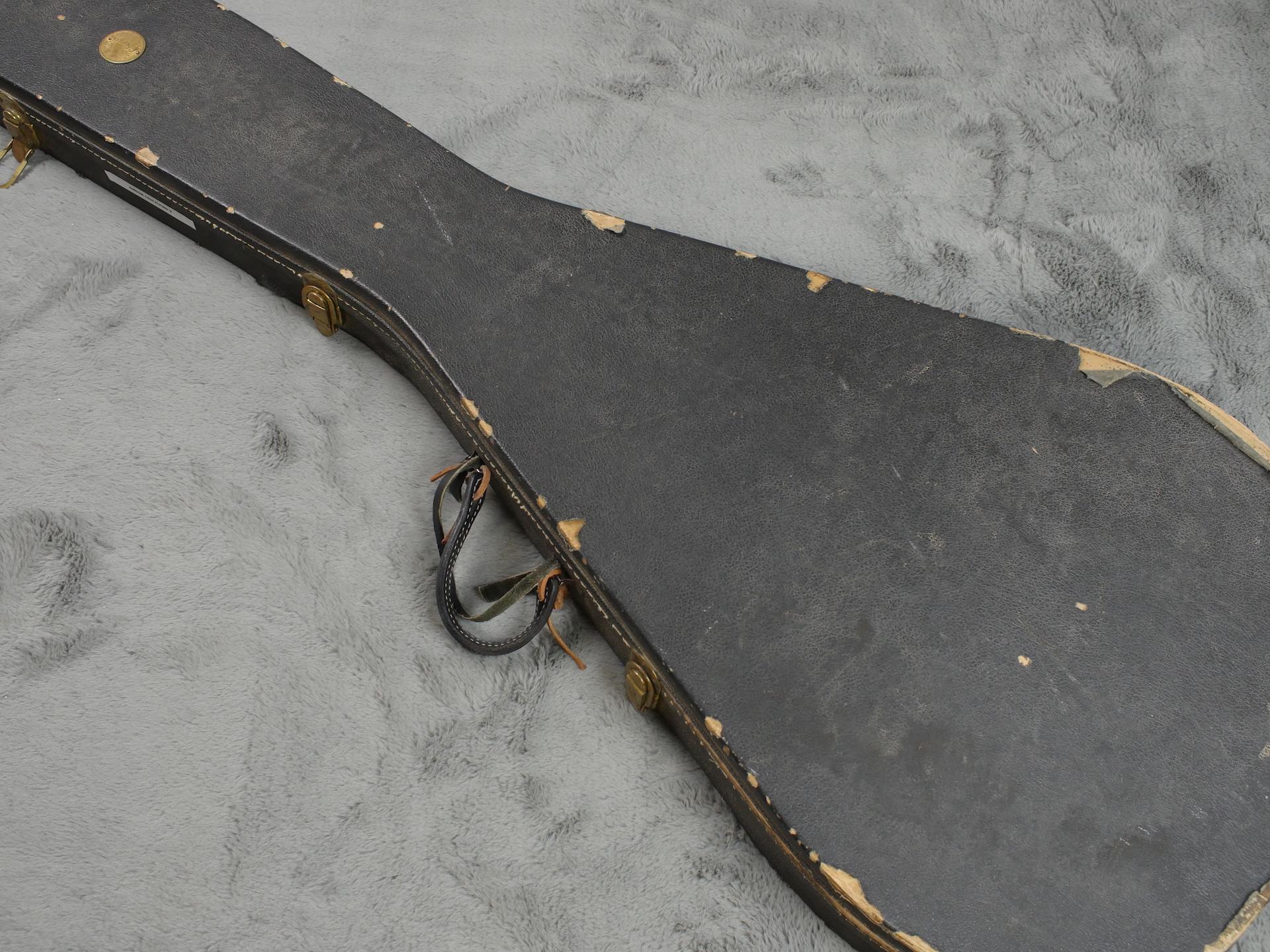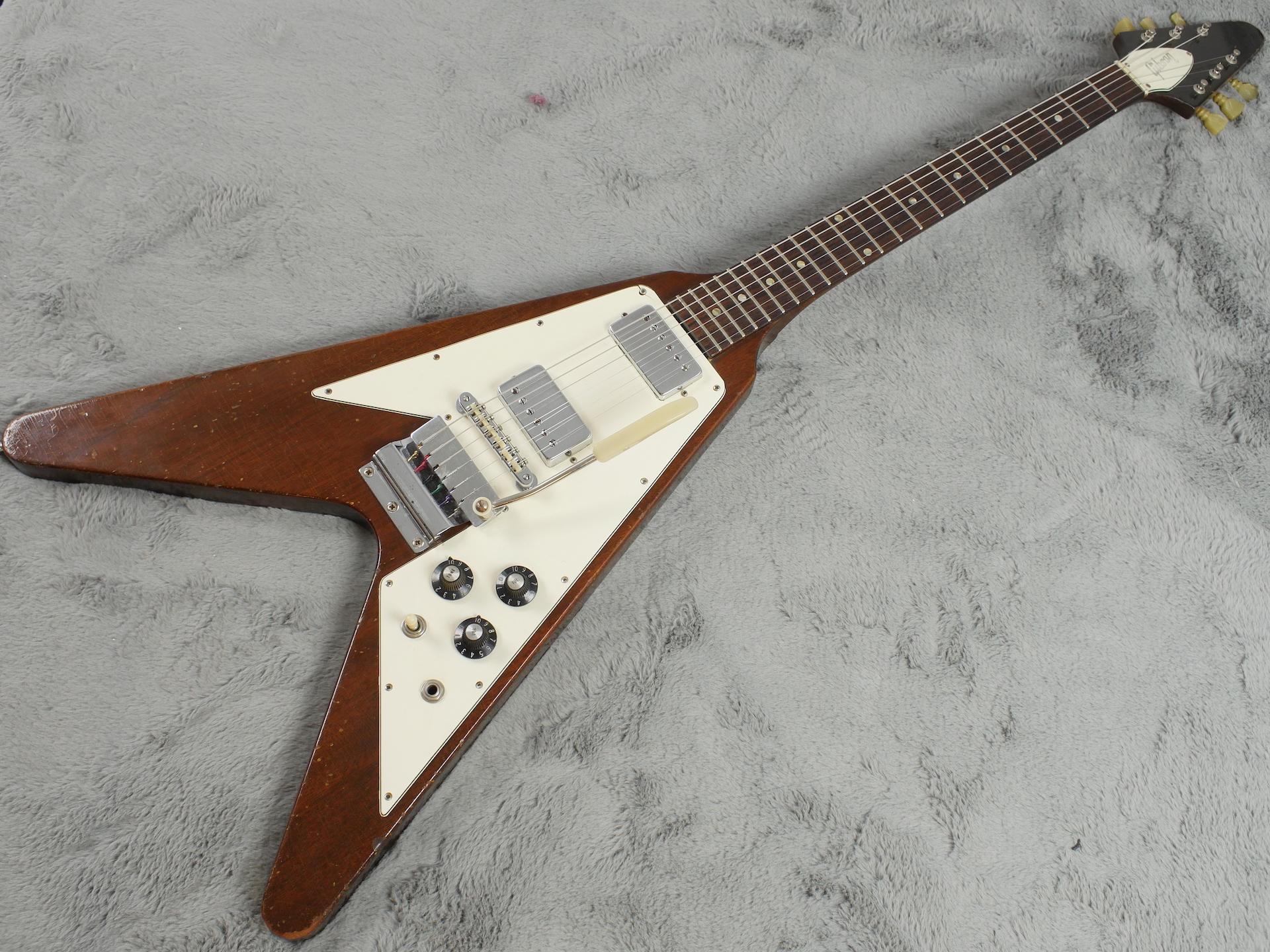 Roll over the image to zoom in
At A Glance:
Model: Flying V
Year: 1969
Finish: Walnut
Modifications: None
Repairs: replaced ground wire to trem, possible replaced jack.
Weight (kg): 2.99
---
Case: 1971 Medallion V hardshell case
Fingerboard: Rosewood
Tuners: Correct Kluson Double Line Double Ring
Pickups: 2 x Correct Patent Number
Hardware: Correct Chrome
Neck Profile: Medium C
Pots: 3 x Correct 500k Centrelab
---
This is a pretty rare bird. Out of the entire run of 175 Gibson Flying V's made in the late 60's just 37 were known to be made in walnut: 35 from the last batch 5 and 2 from other batches… Leslie West had 2 of them, Marc Bolan had one, here is another and within just one sentence we have accounted for over 10% of the total made so you can imagine our excitement when we recently snapped up this beauty!
These last batch 5 V's are as popular with the players as the collectors because they have the slightly fatter, rounder neck which most people prefer to the slimmer profile of the V's from batches 1-4.
What makes this one even rarer is it is the only known example to exist from batch 5 that has a factory painted, black headstock face. In fact it is my theory this could be one of the very first, if not THE first batch 5 V to be made as it does have a few other batch 4 features, such as multi coloured wiring and Kluson, not Gibson Deluxe tuners.
It has not had any of the 3 deadly sins bestowed upon it like a large amount of late 60's V's have. Namely, it has not been stop tailed, it has not been Grovered and it has not had pickup mounting rings installed. Neither has it had any breaks or any repairs.
When we originally received this two years ago there were treble bleed capacitors installed across both volume pots. I had my tech remove these and restore the wiring back to normal so the solder has been disturbed. It looks like the bridge posts may have been out and put back in at one stage, maybe for intonation purposes and a small, area around the original bridge posts has been filled. You have to look hard to see this.
It appears like a small area has been taken out just below the jack socket, a small patch, just about 1 mm deep as it looks like the jack was contacting the bottom of the guitar and causing problems or maybe the jack was replaced. I have seen factory scrapes like this around the switches 60's SG's especially on custom colours where the paint is slightly thicker and I have no reason to suspect this is not factory done but we need to mention that it is there. I know they had hand routed the cavities of some of these and it is highly likely they did this area too. The white ground wire which goes to the trem has been replaced.
There are no breaks at all, anywhere. The original pickguard has one small crack on the upper portion by a screw but generally is in excellent condition. The patina on the underside of the pickguard perfectly book matches the patina on the top of the body proving this pickguard has been with this guitar from birth and it is not a lash up job.
It plays like a demon, very low action with decent life left on original frets. Both pickups are lovely and strong and the V weighs next to nothing (under 3Kg)!
It comes with an original case for a 1971 Medallion V, with a broken handle, which although not technically correct for this, it could be the case this guitar was sold with given that all of these shipped in 1970 and if they hung around for some time in the store, it may not have sold until 1971 and the music store may have confused cases but this is only a guess. An original Medallion V case is still a very valuable thing.
All the pots I can read date to the 29th week of 1966 which is when these assemblies were made, mostly in one batch and serial number is 996906.
Anyone interested in reading more about these unique instruments should check out Jeff Lisec's cool website: https://1967-flyingv.weebly.com/walnut.html where you will see this very same V at the bottom of the page of the walnut section.
If you have the latest Guitar Magazine 2019 Calendar you will be staring right at this V on the January page. You can also find a Vintage Bench test of this same guitar on guitar.com website: https://guitar.com/review/vintage-bench-test-1969-gibson-flying-v/
Probably the only one of these we will ever see, especially with the factory black headstock. Will be sad to see it go and if I could afford to, this is the one guitar I would keep for investment purposes or for a family heirloom…
Availability:
Out Of Stock
Add To Your Wishlist
Send to a friend
Recommend this to a friend by entering their email address in the box below.