1963 Fender Precision Bass Sonic Blue + OHSC
1963 Fender Precision Bass Sonic Blue + OHSC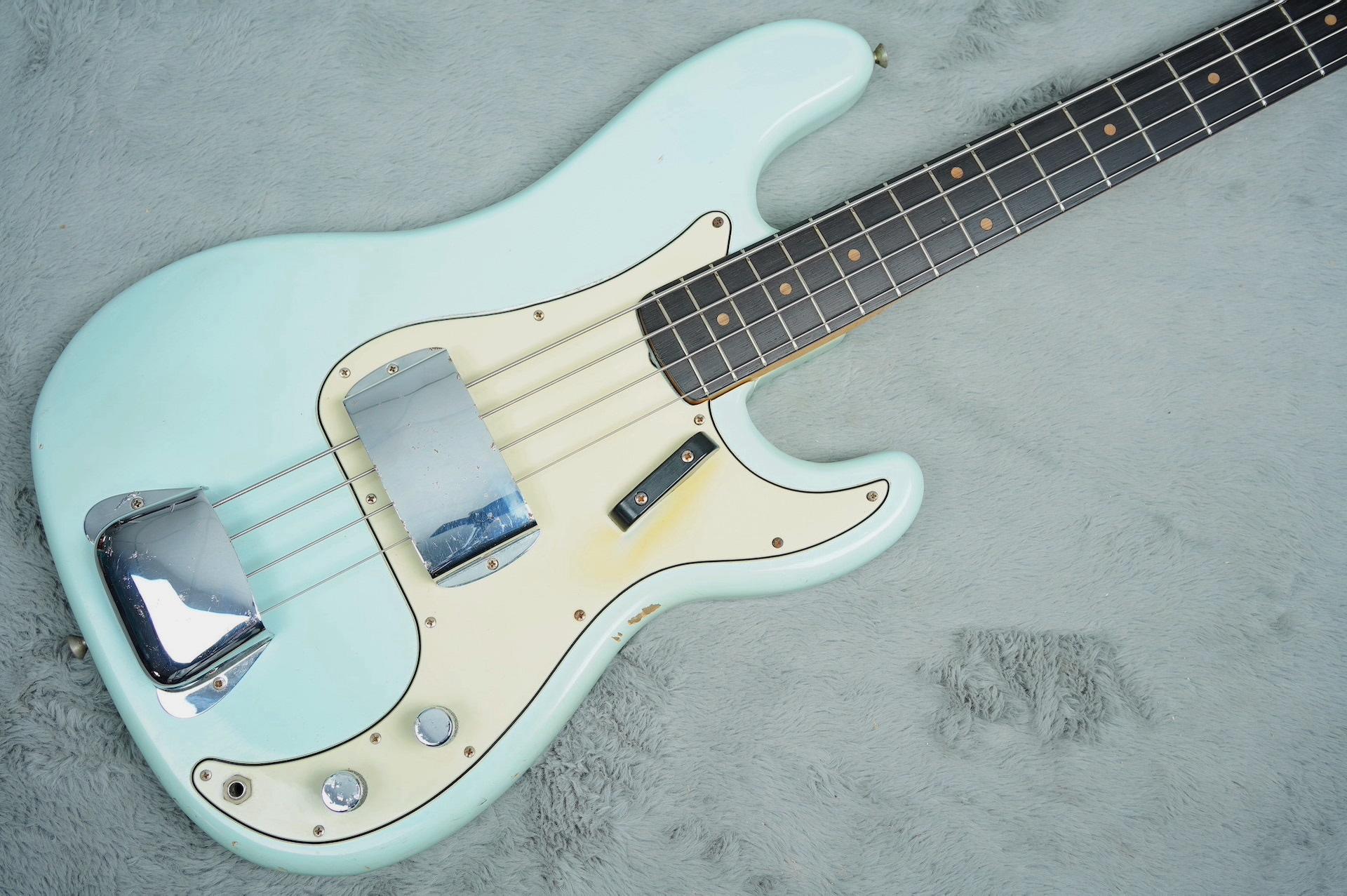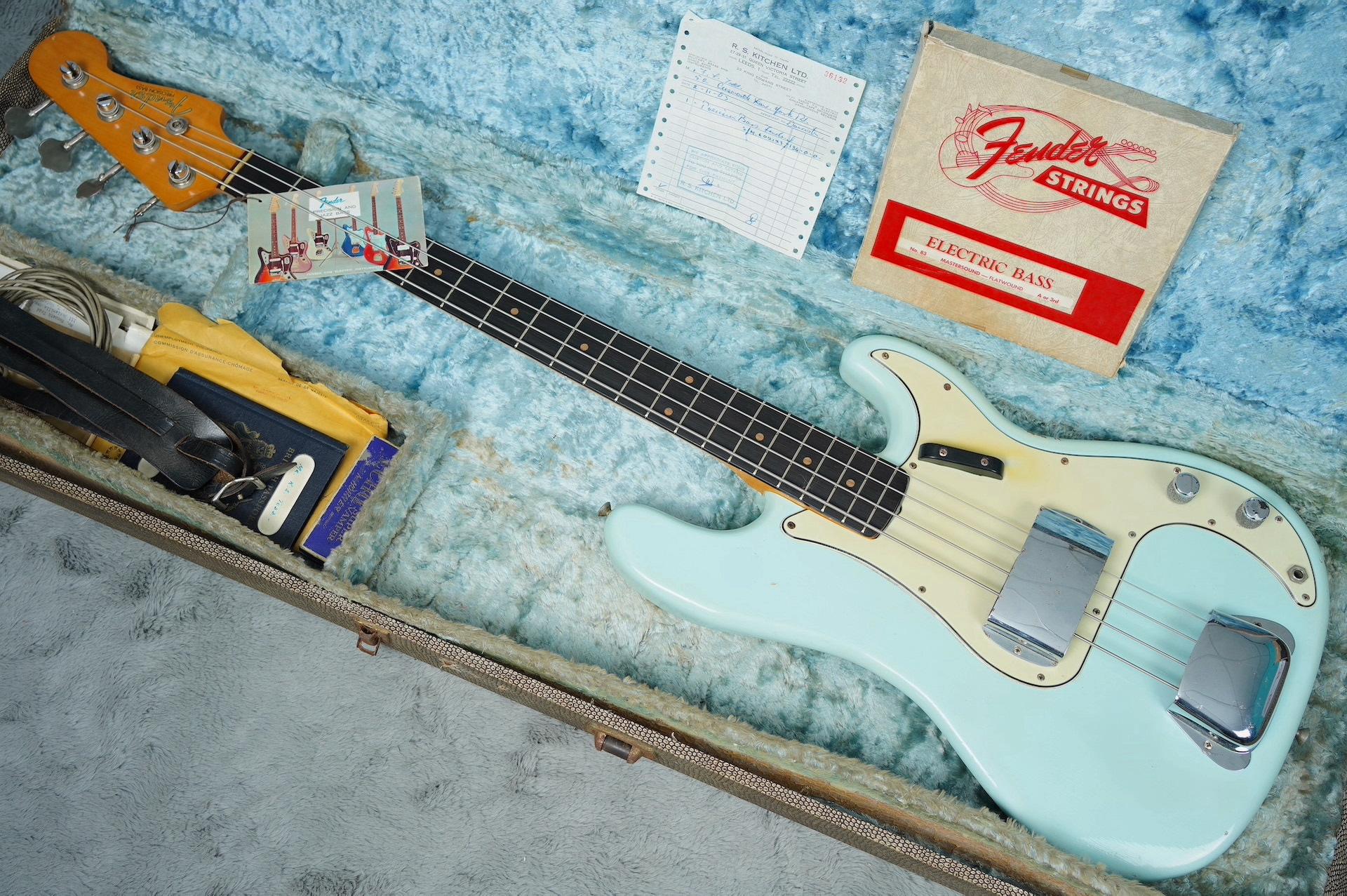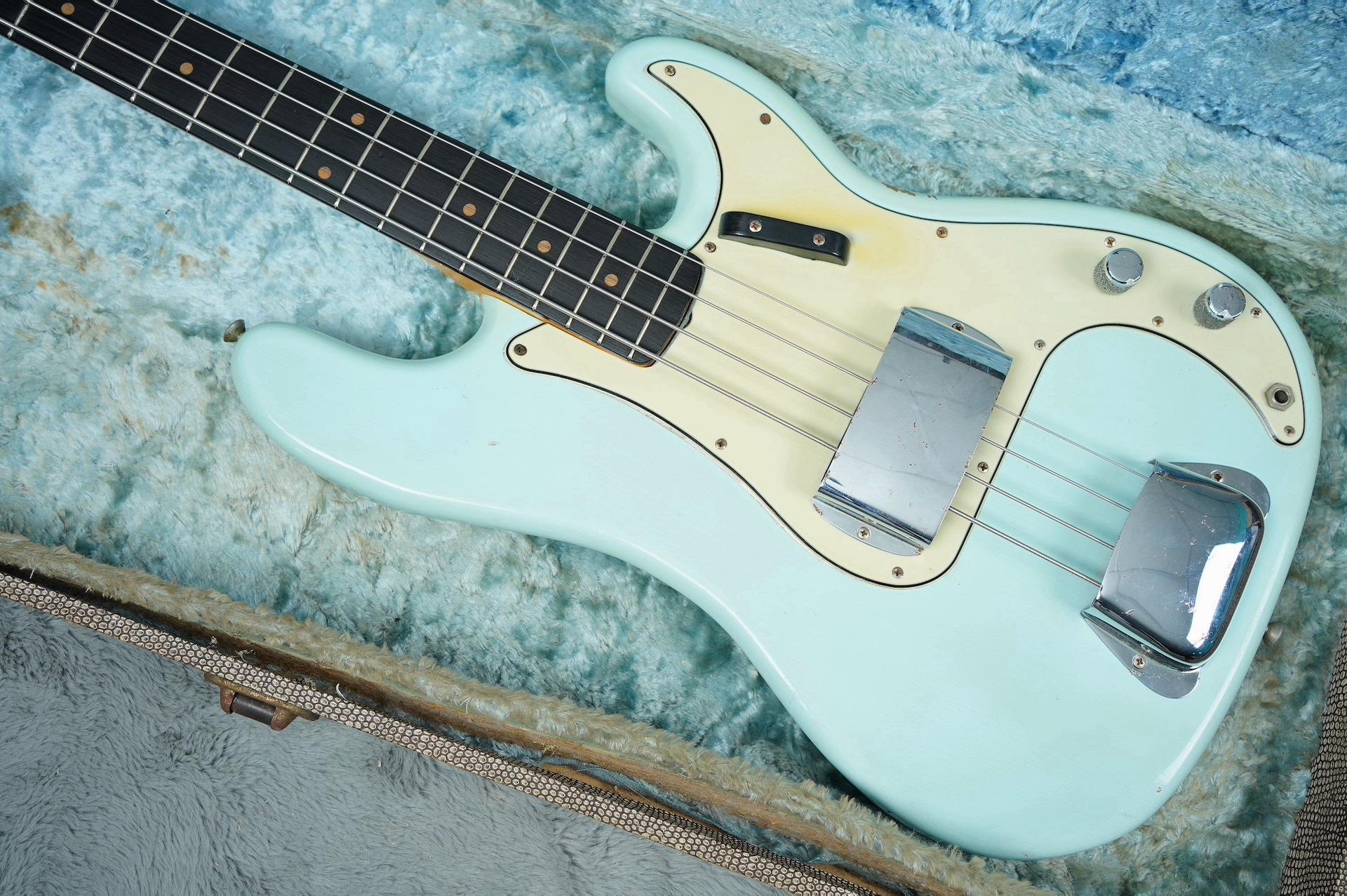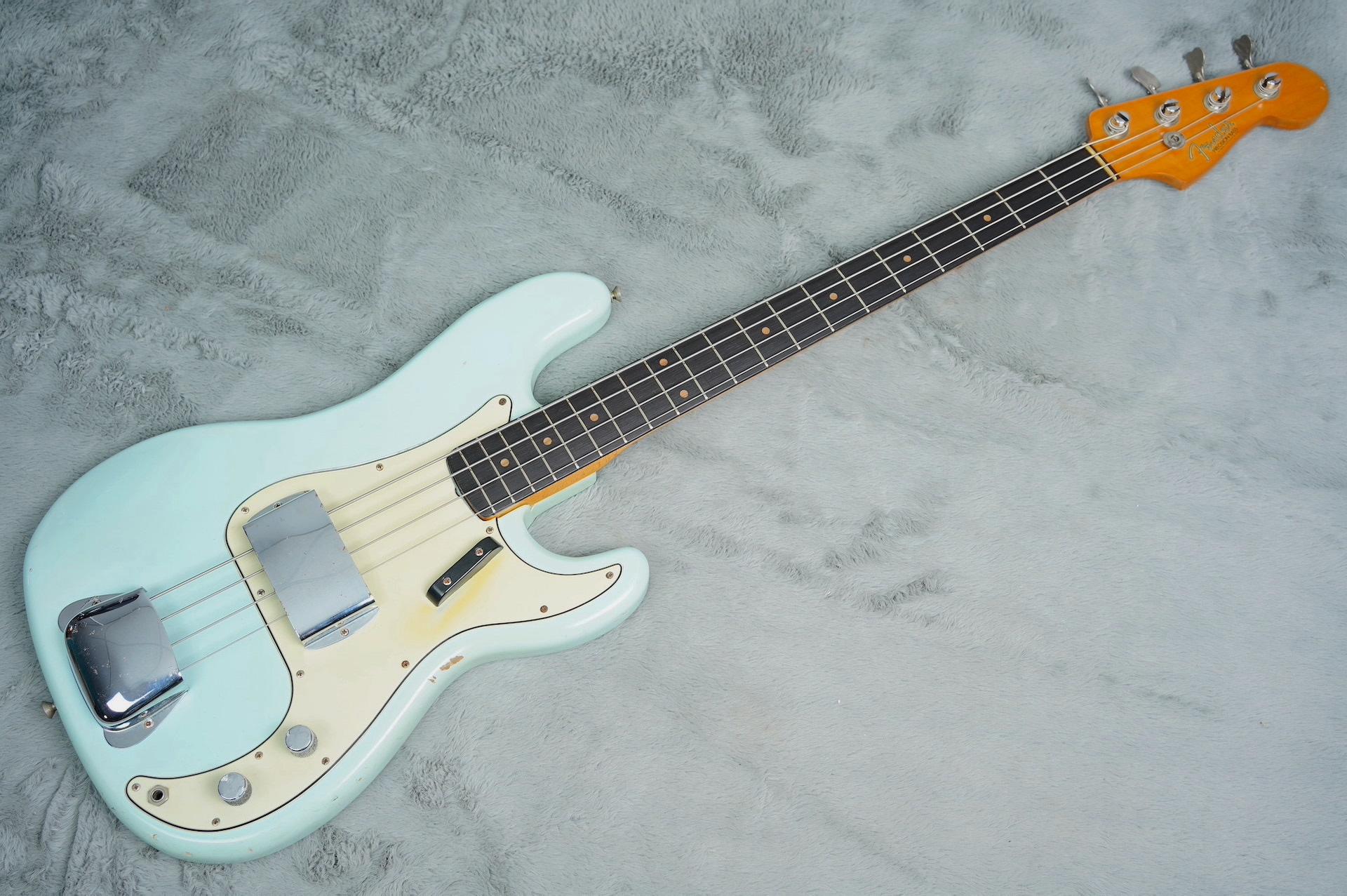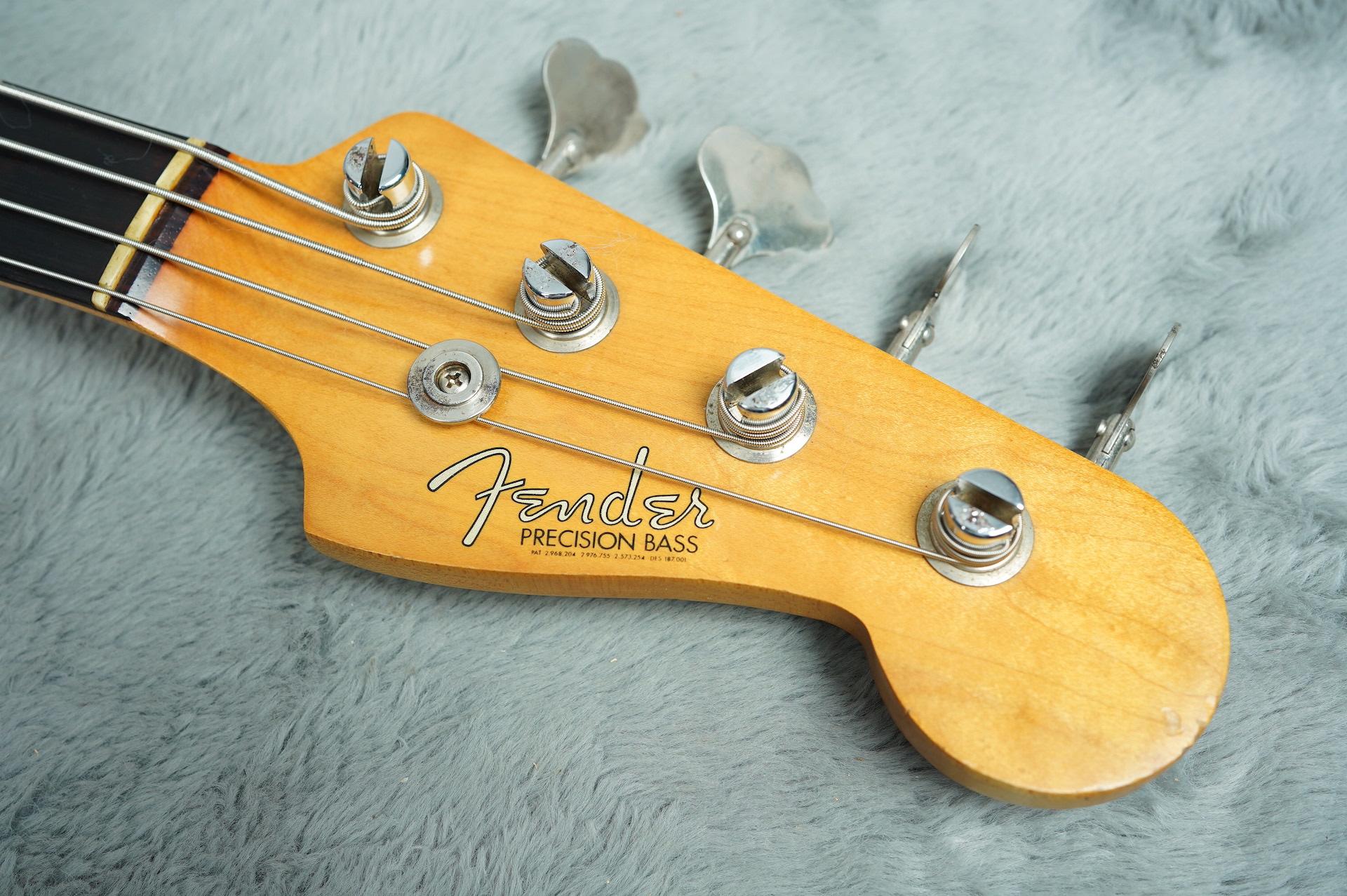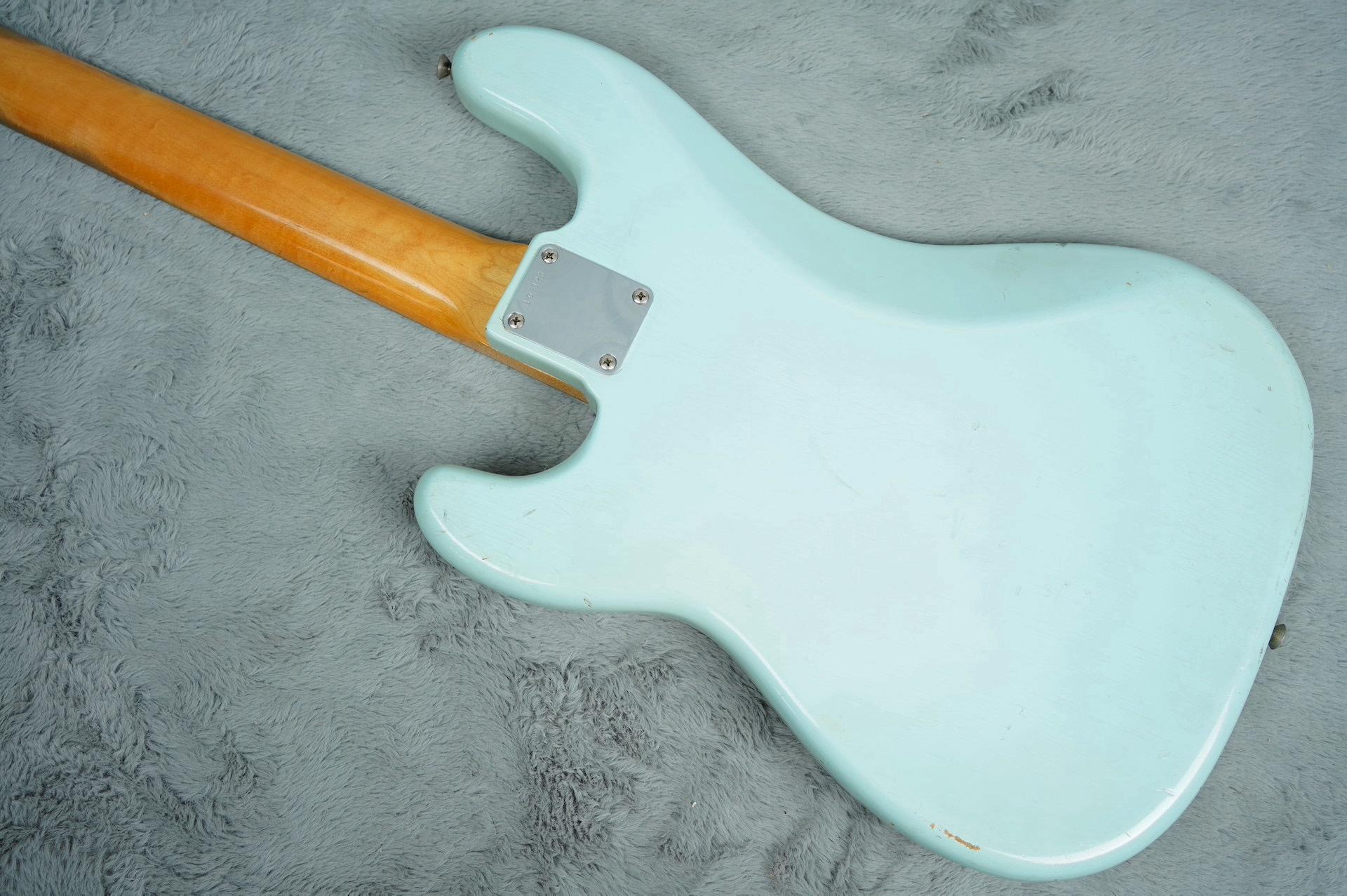 Roll over the image to zoom in
At A Glance:
Model: Precision Bass
Year: 1963
Finish: Original Sonic Blue
Modifications: None
Repairs: None
Weight (kg): 4.62
---
Case: Original Selmer
Fingerboard: Rosewood
Tuners: Original Kluson reverse gear
Pickups: Original single coil
Hardware: Original nickel
Neck Profile: Medium C
Pots: Original CTS 1963
---
We hate to be the bearer of bad news…. we really do…
However, it is a sad fact that over 75% of the people who come to see us to sell, or value their 'all original' (usually Fender) guitar that has been sitting around for years, or passed down as a family heirloom are left feeling somewhat deflated when it is pointed out either the finish is not original, significant parts have been replaced, or hidden repairs are unearthed and as a result, it is not worth nearly as much as they had hoped. That was the norm, until this beauty walked in last week…
Found during some kind of house clearance in Worcestershire a couple of weeks ago, this is probably one of THE finds of the year so far. Here we have an untouched, 100% original, mid 1963 Fender Precision Bass in one of the rarest and arguably the most desirable custom colour finishes - Sonic Blue. Complete with its original receipt from Kitchens Music in Leeds (as in Kitchens Marshall fame), hang tag with correct serial number, original Selmer case and a ream, a ton of paperwork from its original owner the likes of which we have never seen before!
Custom colour pre-CBS Precision basses are a lot rarer than Jazz basses as it was not such a high end instrument so not as many folk were prepared to pay the 15% or so upcharge for a custom colour. In fact we cannot find another original sonic blue 1963 P Bass out there, but I am sure they exist, probably Geddy Lee has one..? It is also amazing that during the height of The Shadows fame here in the UK, when everyone and anyone wanted Fiesta Red, a sonic blue P Bass made its way over here all the way from Fullerton to Leeds, intact and unmolested by Selmer who were probably itching to refinish it in Fiesta. The chap who ordered it must have really wanted this one and probably waited several months for its arrival.
So who is this chap, the original owner who's name is on the receipt? From what we can tell he was born in 1945 in Doncaster (his birth certificate is included), he grew up in West Riding of Yorkshire and attended Highfields Secondary school where he excelled at English and Maths (his school report is included). He then qualified as an electrician (employment references included) and bought this amazing bass when he was just 18 years old in November 1963 for the princely sum of £134.
At around the same time he bought a small box, diamond input, Vox AC50 with Foundation cabinet and stand (like Bill Wyman used) which we also have and will list later on. And yes, it is in the same condition and 100% original.
He must have used this bass around the Yorkshire area for a few years then he went over to Toronto in Canada in 1968 which we have an airline ticket for indicating checked baggage that could be the bass. We also have his blue passport with a Canadian work visa stamp and a visa to visit Germany plus a ton of other stuff, union cards, employment records, befit stamps etc and etc… Take a look at the photos!
Back to the bass itself. Judging by the tiny click we felt when unscrewing each of the original screws, I think we were the first to take it apart. It is needless to say, 100% original in every way and in excellent condition, still retaining a lot of its lush Sonic Blueness rather than the Sonic Green a lot of these turn with age. It has its original desert sand undercoat and all the correct markings you would expect to see. In fact as soon as I saw it I knew I didn't need to take it apart. it immediately looked and felt totally right, but we have to do our due diligence so out came the screwdrivers and it was very carefully taken apart, noting the exact location every single screw had come from.
Neck date is May 1963, pots date to 20th week of 1963, serial number is early/mid 1963. We dont think this has ever been played by its owner with the covers off and all the foam mutes are intact and work just fine. When it arrived here last week it was fitted with ancient flat wounds that had green mould growing on them and all the frets had turned green. We beleive the original 1963 Fender strings are in the case pocket along with its strap, lead and a harmonica.
It is in excellent condition, it has been played but it has spent a lifetime on flats so there is virtually zero fret and fingerboard wear (see pics) There is some wear on the back of the neck by the Rock n Roll positions on G A and E and the owner probably ended his set with a 'Rock n Roll medley' :-) If you look closely you can just see the feint outline of what must have been a small sticker on the upper horn. We have tried to photo this and had to underexpose to make it somewhat visible.
We will never come across such a rare piece like this again with all of its amazing history. It is a true investment grade item that if you are a discerning collector you should strongly consider pouncing on as you will not find another and it is probably not going to go down in value!
And just as an aside, it does play superbly well and sound terrific. As the age old saying goes, find another…
Availability:
Out Of Stock
Add To Your Wishlist
Send to a friend
Recommend this to a friend by entering their email address in the box below.