1953 Fender Telecaster + OHSC
1953 Fender Telecaster + OHSC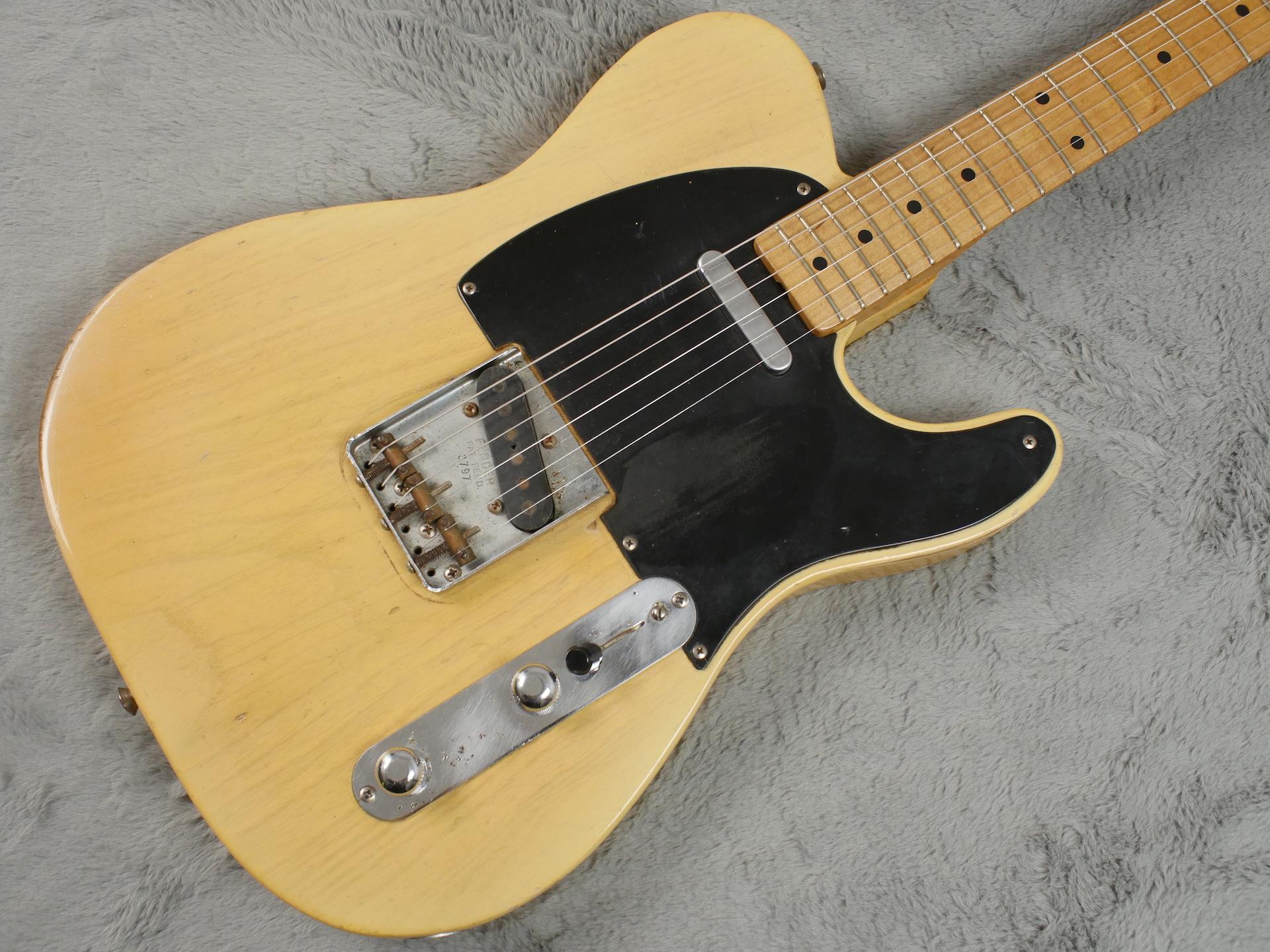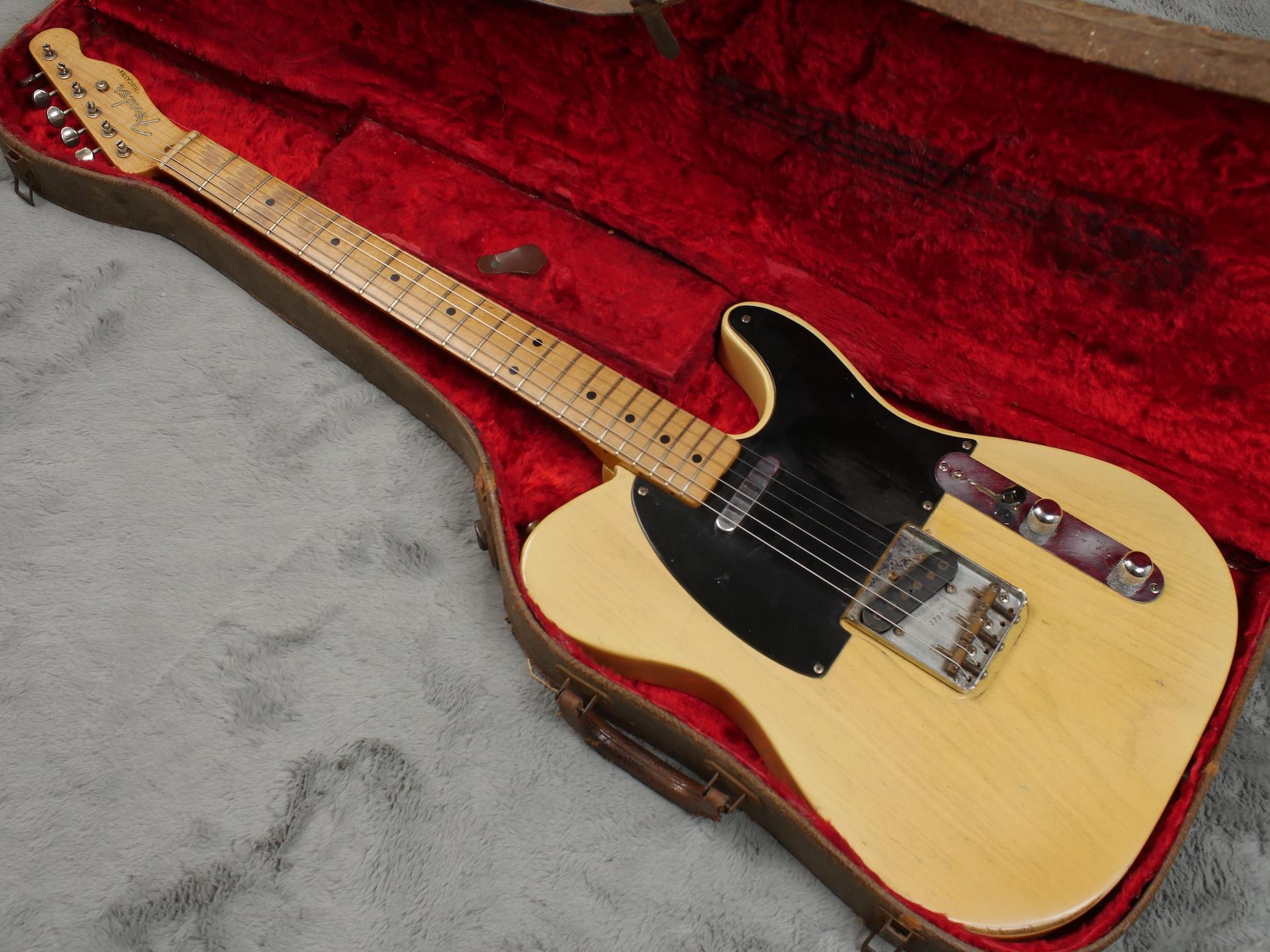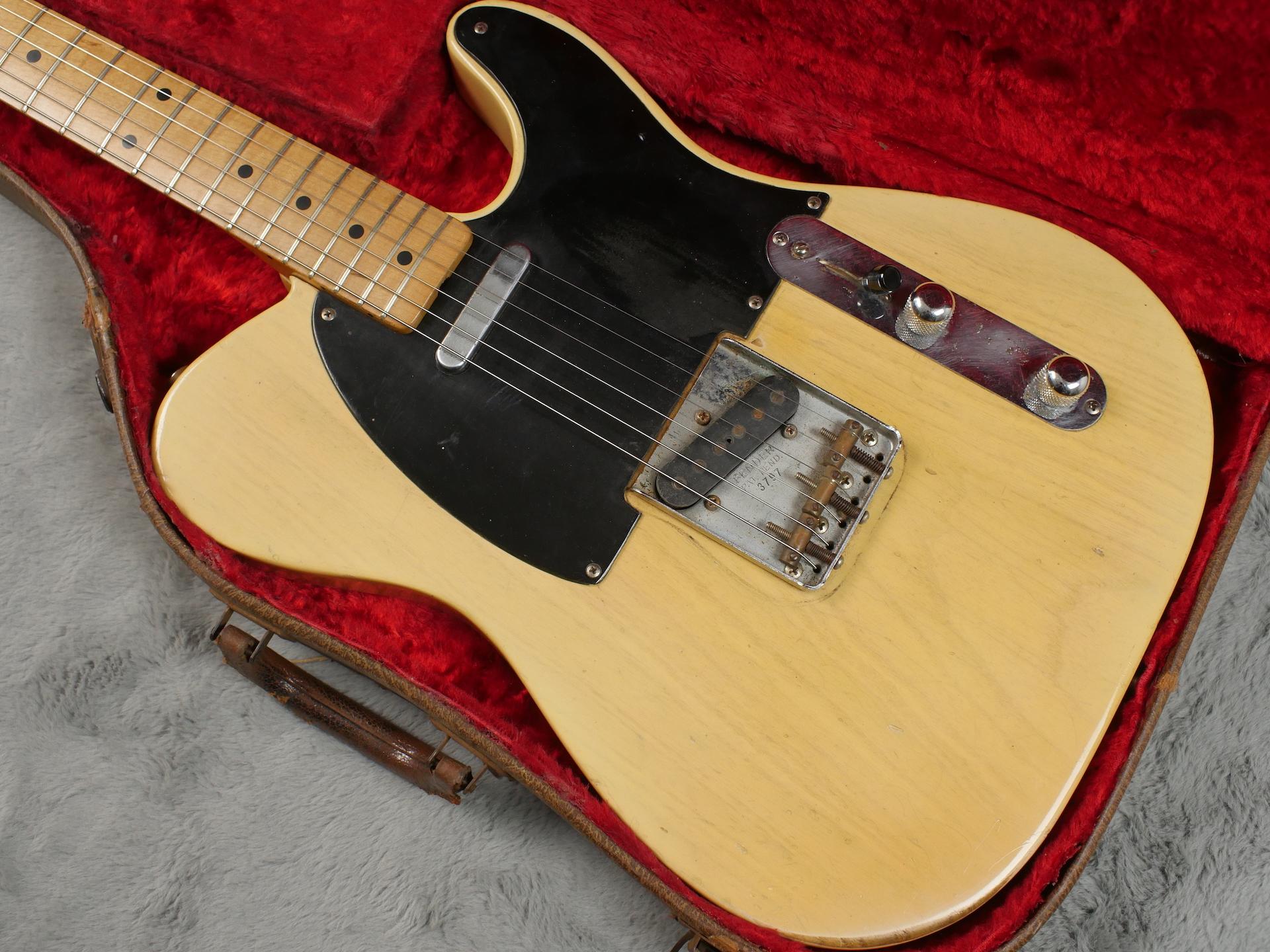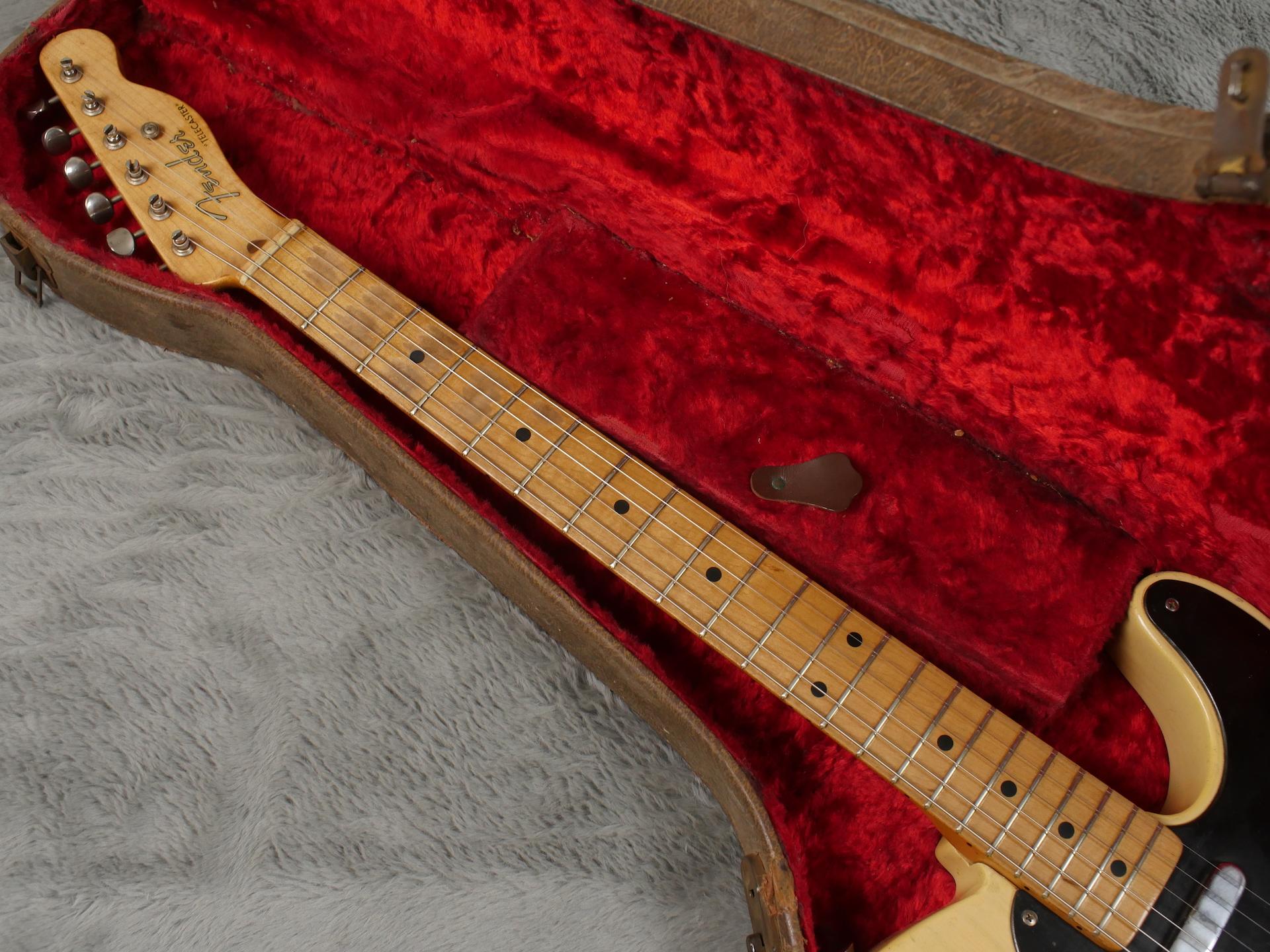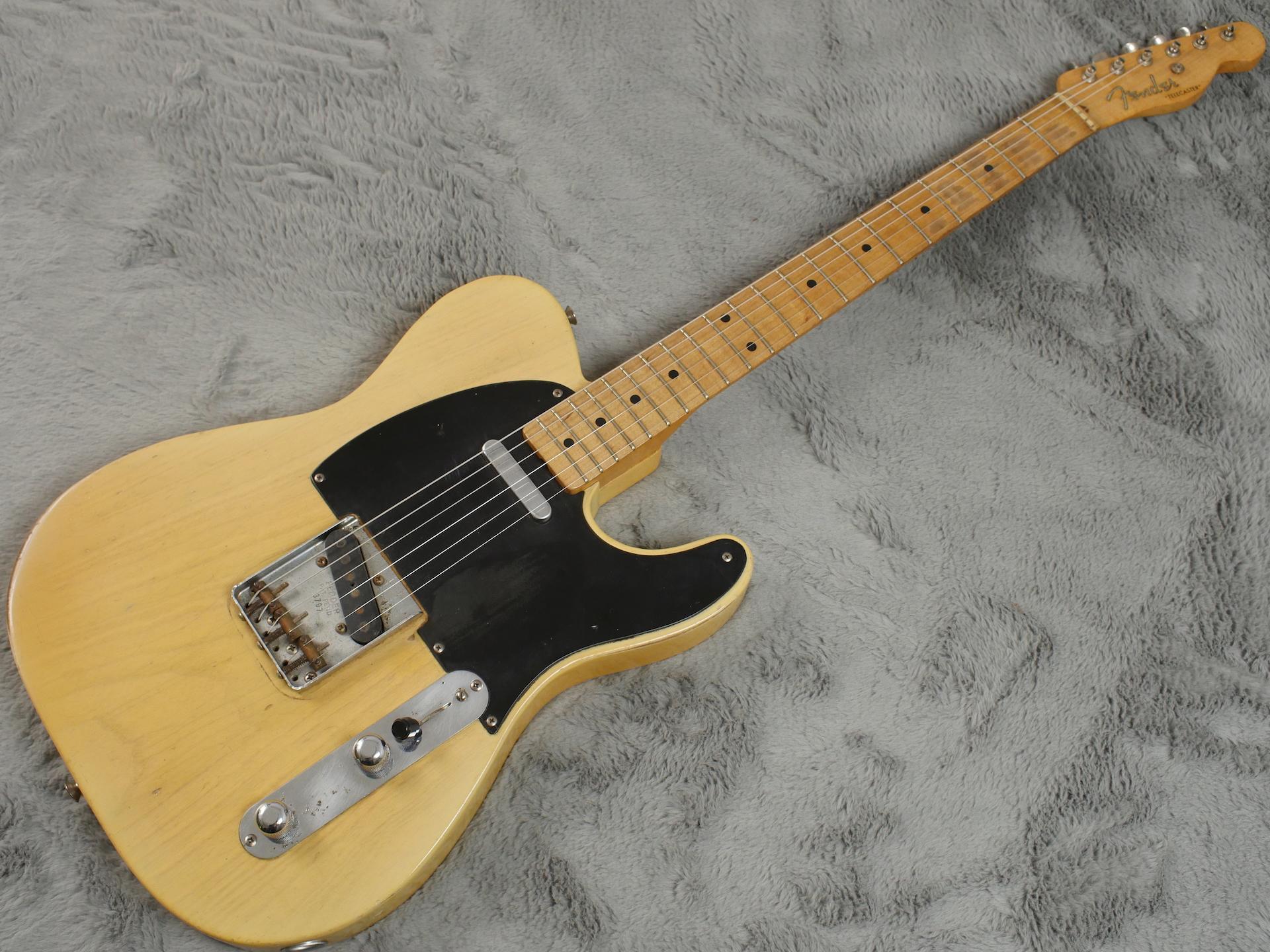 Roll over the image to zoom in
At A Glance:
Model: Telecaster
Year: 1953
Finish: Blonde
Modifications: None
Repairs: Fretboard only has been restored as original lacquer was removed by previous owner
Weight (kg): 3.29
---
Case: Correct 'Poodel' hardshell case
Fingerboard: Maple
Tuners: Correct Kluson No Line
Pickups: 2 x Correct Black Bottom Single Coil
Hardware: Correct Chrome
Neck Profile: Very Soft V
Pots: 2 x Correct 250k Stackpole
---
Nearly all straight, Fender Telecaster from 1953 in it's own original poodle case at a decent(ish) price with a demon sound and superb playability…
I'll get this straight out of the way first. The only issue with this guitar is the fingerboard only (not the neck) has been re-lacquered. When we bought it, the dealer who sold it to us claimed he bought it from the original owner who only learned to play four chords but did not quite get the hang of changing between them very well. So after quite a few years of struggle and frustration at this level he decided to pack it in and keep the guitar in his wardrobe until someone told him many years later, it may be worth a few bob.
When we bought it, the lacquer on the finger board had been stripped to bare wood which was bright white, just like fresh maple is. It has not been refretted so the only reason this was done was for cosmetic reasons as you can tell by the wear on the back of the neck, the fingerboard in the first few positions must have to the owner, looked a tad messy.
We then sent the guitar to Neil @ivison_guitars who expertly reapplied the lacquer and matched and aged it to perfection (take look at the pics), the result we feel is probably just the same as how it looked before owner stripped it down!
Aside from that, there is not one thing out of place on this stunning guitar. All original solder joints, all original finish on the rest of the neck, headstock and on the body. No touch ups, original hardware, decal and original mid 53 brown poodle case.
Serial number is 3787, neck date is 11-53, body is Tadeo Gomez pencil dated 10/53 and the owner seems to have chipped in and written his initials in biro in 1959. Pots are both original and difficult to make the date codes out as the blue ink is covered in solder. Finally Gloria, the person who did the wiring assembly, has written her name on tape inside the cavity and dated it 10th November 1953 which must have been the final date of assembly.
It is quickly becoming a store favourite here right now as it is a real joy to play with a nice weight of just 3.29Kg, it is one you can wear all night long. Pickups sound just as you would expect a blisteringly good black guard Tele to sound i.e. the pinnacle of classic Tele bite in the best possible vintage way. There is a reason, and it is not just for their collectability, why original black guards are so sought after…
Truly one of the greats, I do not think this Tele will disappoint any one out there who tries it out and everyone who has so far, has had a big grin on their face…
Availability:
Out Of Stock
Add To Your Wishlist
Send to a friend
Recommend this to a friend by entering their email address in the box below.