1958 Gibson ES-335 TD early un-bound fingerboard + OHSC
1958 Gibson ES-335 TD early un-bound fingerboard + OHSC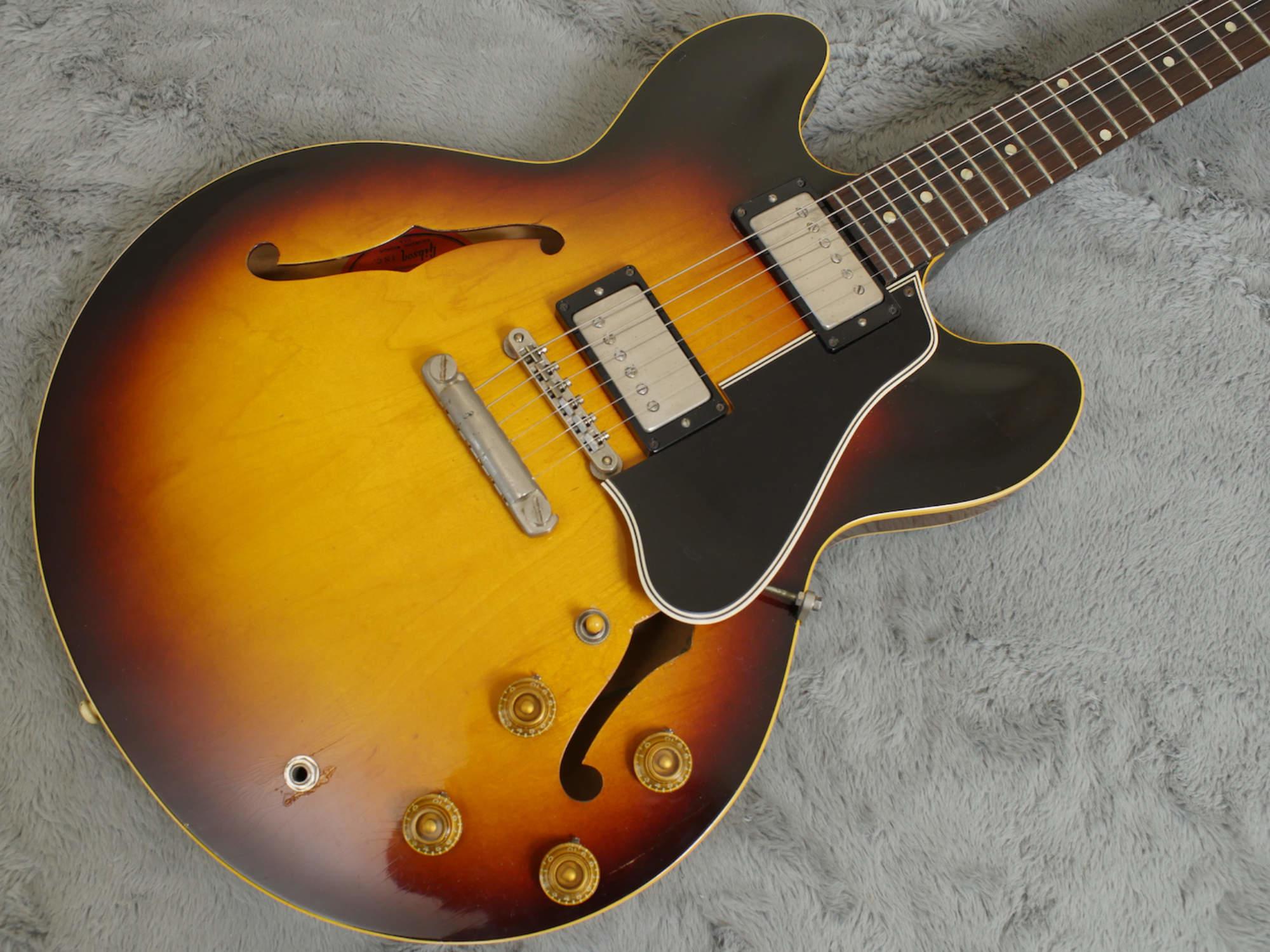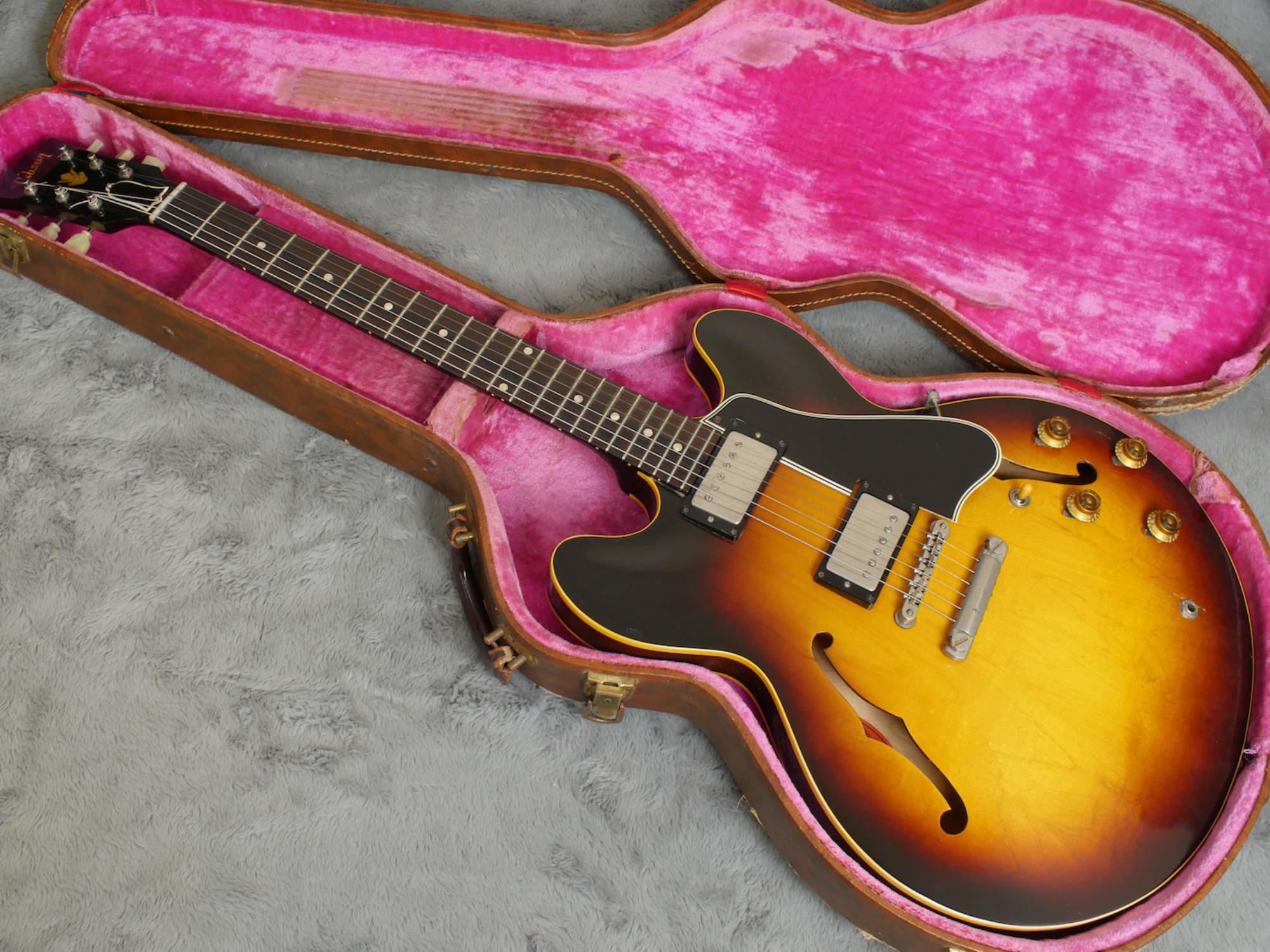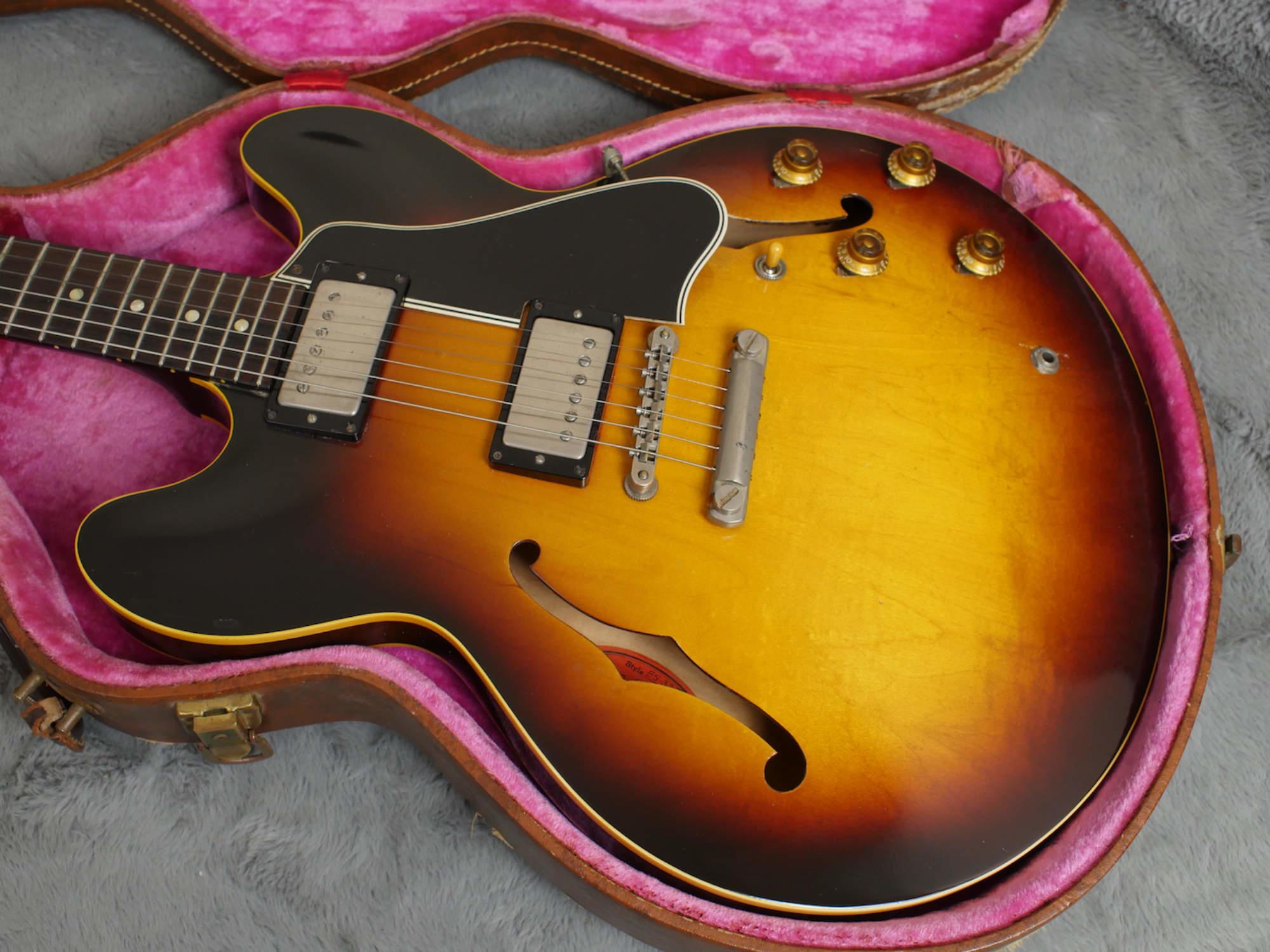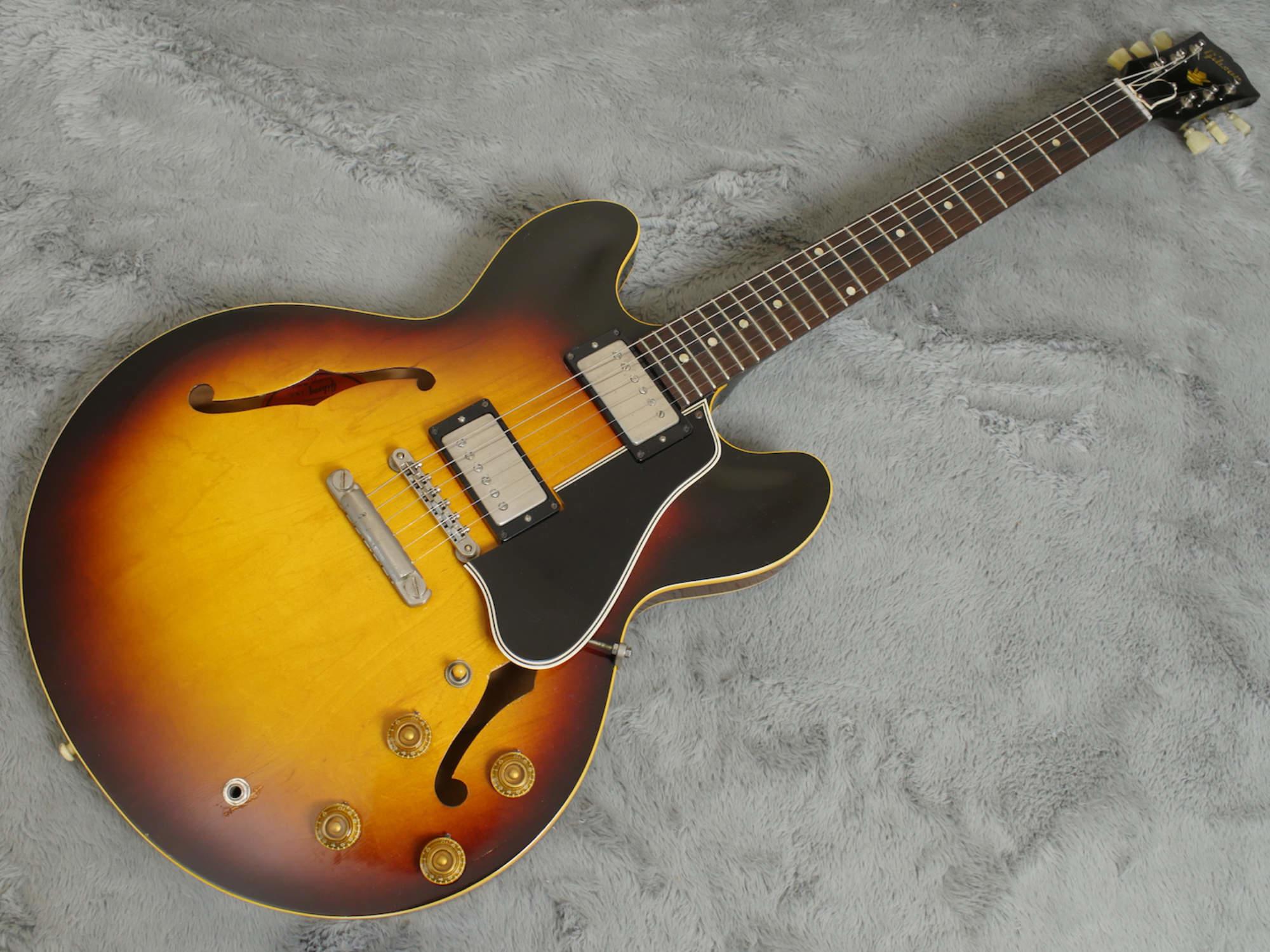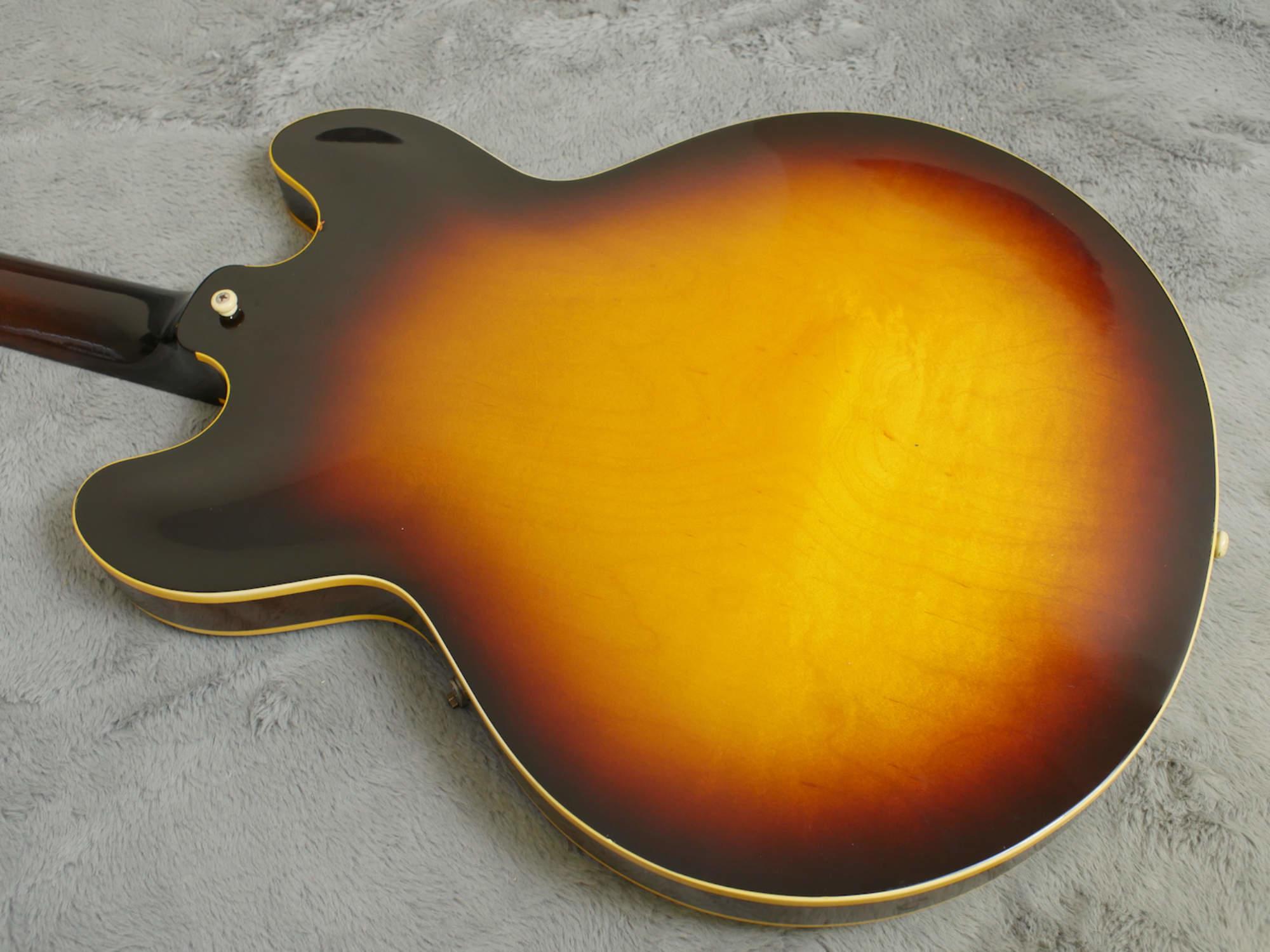 Roll over the image to zoom in
At A Glance:
Model: ES-335 TD
Year: 1958
Finish: Original Sunburst
Modifications: None
Repairs: None
Weight (kg): 3.80
---
Case: Brown/pink Lifton 4 latch
Fingerboard: Rosewood
Tuners: Original Kluson Sinle ring/line
Pickups: 2 x Original PAF's
Hardware: Correct Nickel
Neck Profile: Chunky C
Pots: Original 500k
---
Probably one of the nicest, playing and sounding guitars we have ever had here - these first generation, early ES-335's are really something quite special. The combination of the thin top and the PAF pickups is pretty magical and together with a beautiful round, chunky-ish neck and unbound fingerboard it really is one guitar to consider being at the top of your hit list…
This is an early, 1958 Gibson ES-335 TD in a very strong, excellent plus condition. It has a beautiful dark sunburst, pre Micky Mouse ears and is one of the early ones with an unbound fingerboard. There are estimated to be only around 150 of these early versions made.
It is serial number A28285 with a FON number of T 4890 25 and has a brown, slim waist Lifton 4 latch case with pink lining. Both PAF pickups have never been opened and like all of these, the slimline bridge provided from new collapsed and this has been replaced with a 1959 no wire, ABR-1 bridge that looks like someone started to shave down at the bottom but stopped when it was realised that the neck angle on this particular ES-335 could actually take a full height ABR-1 so it is just shaved a bit at one end. That is good compared to most of these early '58's.
It is a joy to play even though the bridge is flat on the top, I cannot imagine that anyone would want the action any lower but if you do, you will have to continue shaving the bottom of that ABR-1 a wee bit more.
Everything about this lovely guitar sings. You barely need an amplifier as it is so resonant acoustically and if we ever get round to doing a video, I will record it acoustically too so you can hear yourselves. The neck is just beautiful and feels perfect. Frets are original and in superb shape as is the rest of the guitar - have a look at the photos and you will see what I mean. A strong vibrant finish with no real buckle rash and hardly any wear on the back of the neck or fingerboard.
There is the usual crack around the jack socket, that is only on the first layer of ply, together with another small top layer crack by one of the tone knobs, some checking in places but no breaks, repairs or finish issues anywhere.
All hardware is correct, including the long guard, single line Kluson tuners with tips in perfect shape (they did not start to rot until a year later) and the short seam tailpiece. The PAF's have been unopened and are both strong and balanced with readings at 7.7k and 7.5k. The pots are the correct style Centralab 500k with bumble bee caps and all plastic, rings, knobs switch tip are correct.
This is probably the only one for sale this side of the Atlantic right now and it is a superb example in pretty amazing condition. I struggled with this for quite a while, deciding if I wanted to sell it or not. It is without a doubt one of the finest guitars I have played and it was a hard call to put it up for sale but needs must, so someone please buy it before I change my mind…
Availability:
Out Of Stock
Add To Your Wishlist
Send to a friend
Recommend this to a friend by entering their email address in the box below.