1958 Fender Jazzmaster Unique Sparkle Surfburst Finish + OHSC
1958 Fender Jazzmaster Unique Sparkle Surfburst Finish + OHSC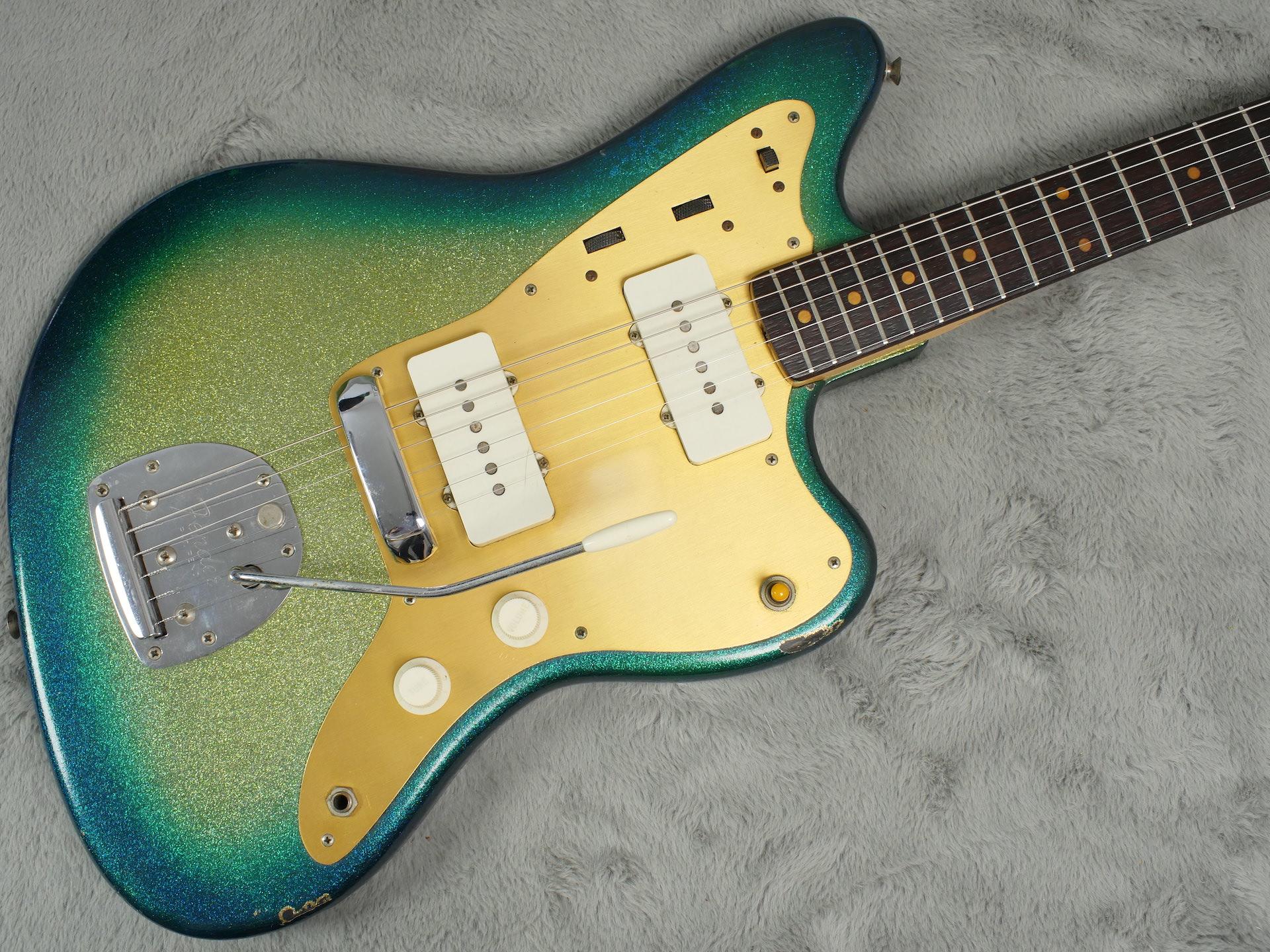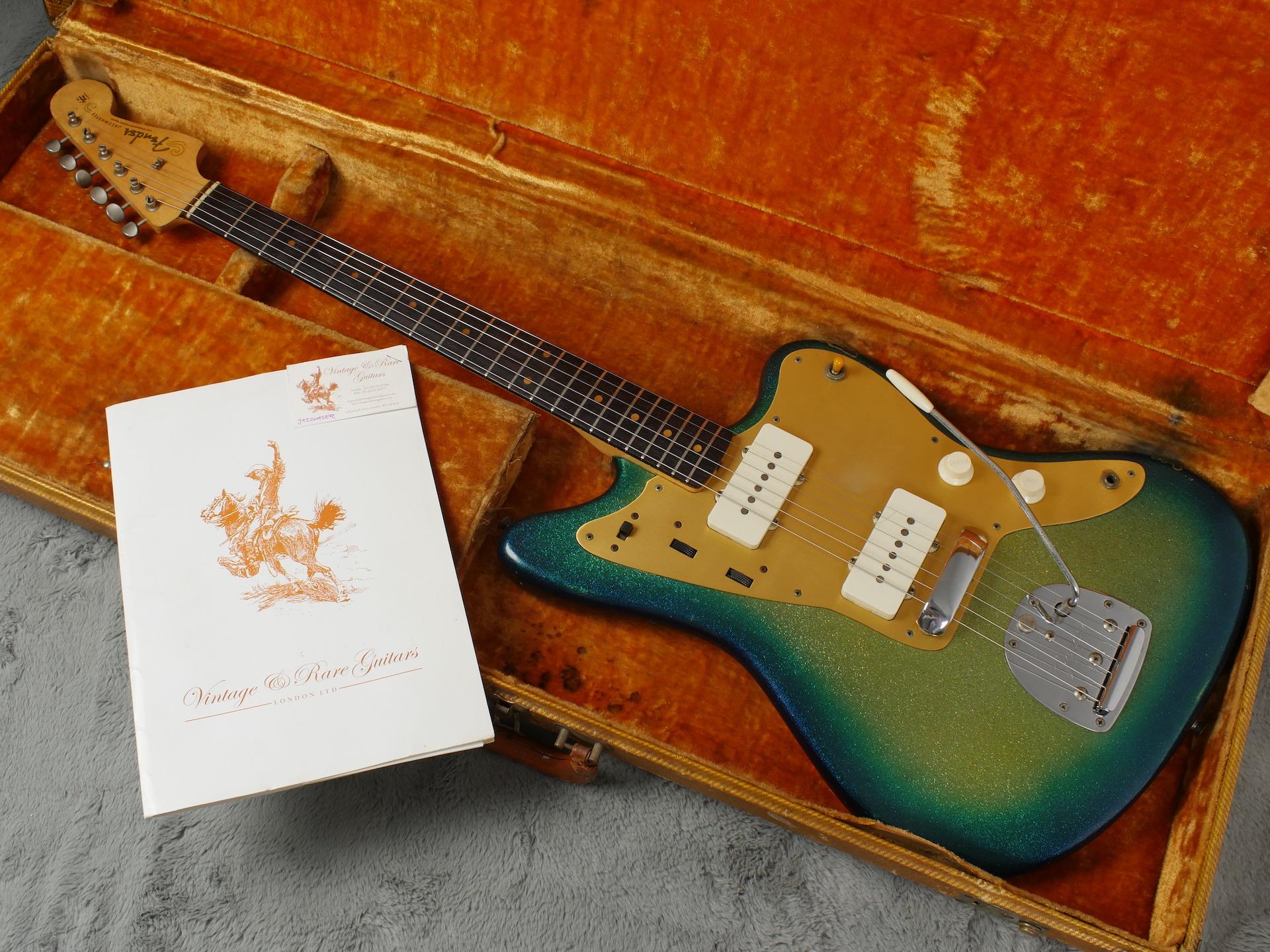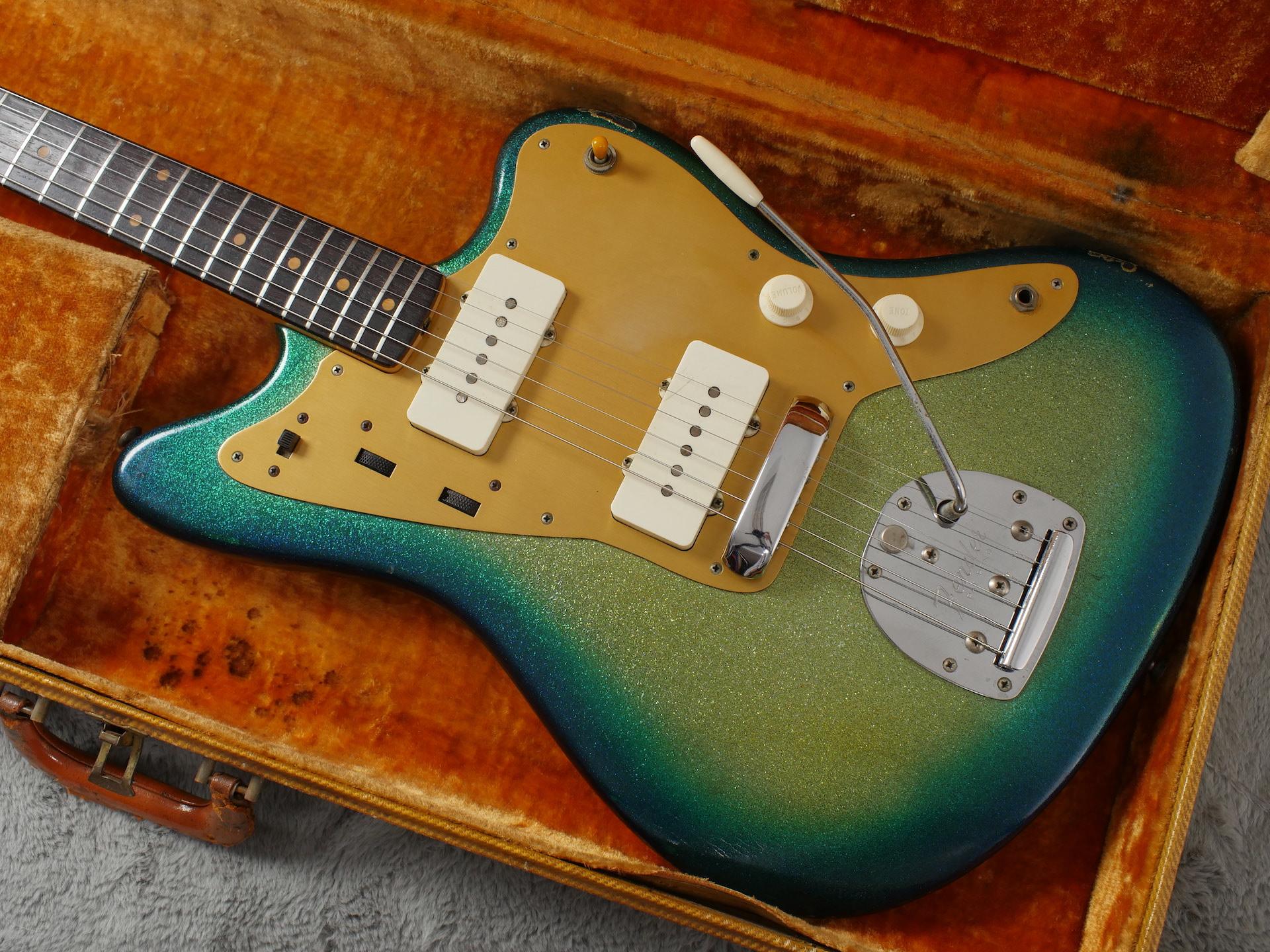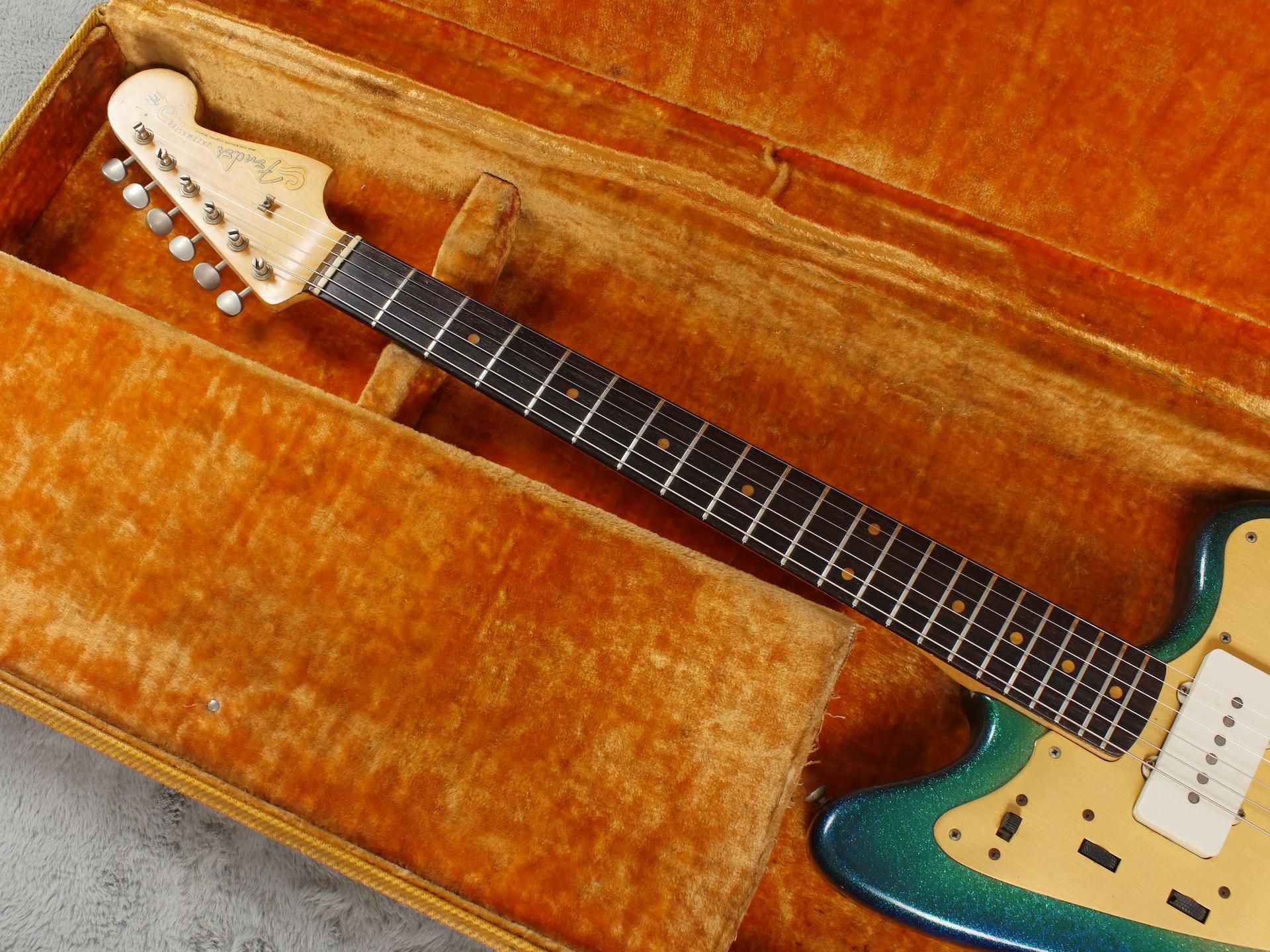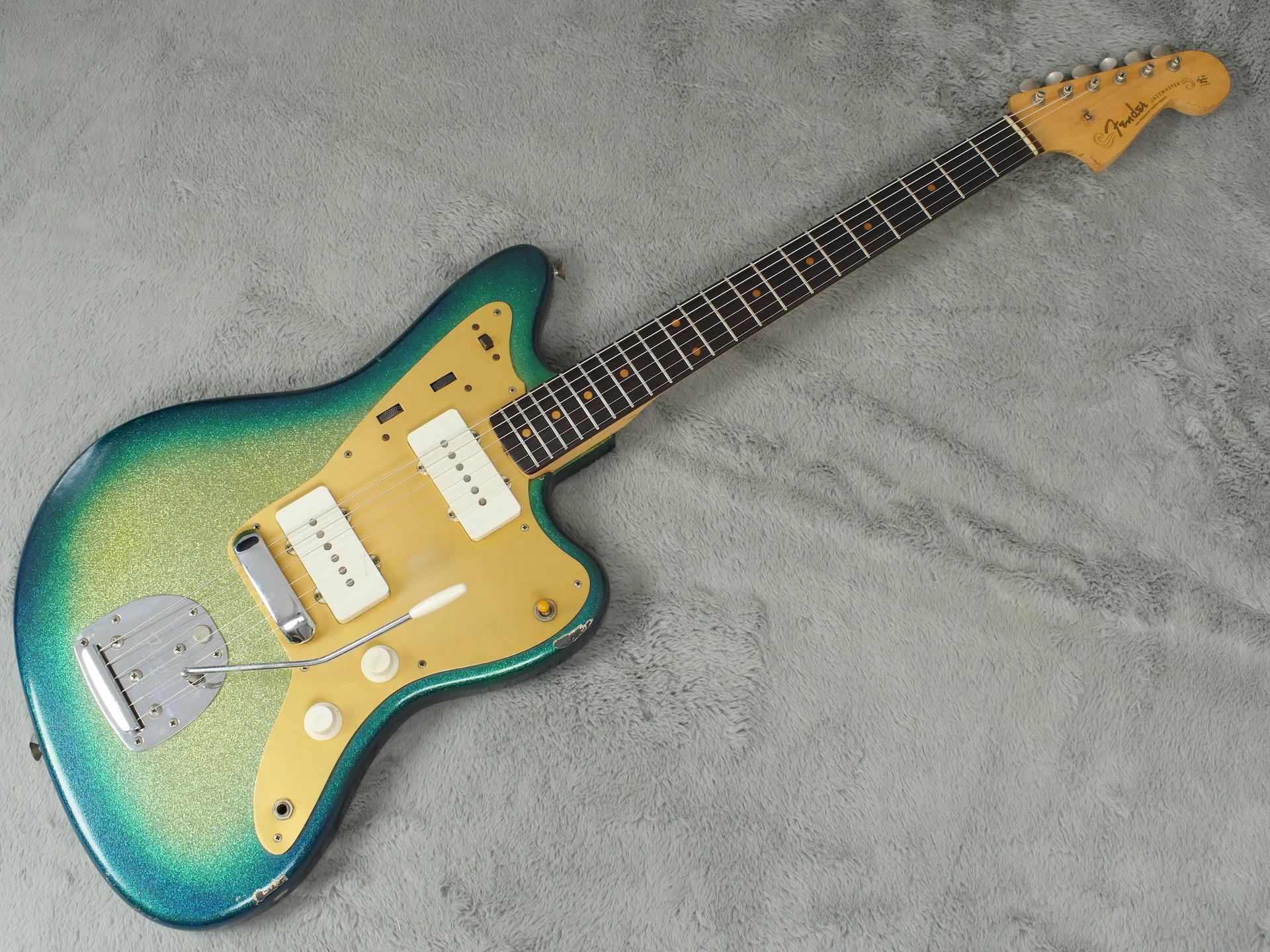 Roll over the image to zoom in
At A Glance:
Model: Jazzmaster
Year: 1958
Finish: Surfburst
Modifications: None
Repairs: None
Weight (kg): 3.91
---
Case: Correct Tweed hardshell case
Fingerboard: Rosewood
Tuners: Correct Kluson Single Line
Pickups: 2 x Correct Single Coil
Hardware: Correct Chrome
Neck Profile: Medium C
Pots: Correct 2 x 1M CTS, 250k & 50k CTS
---
From the age of beach parties and cruising in your hot rodded '32 Ford Roadster with your best girl, here is a 1958 Fender Jazzmaster in Surfburst finish.
In the 1950s Alcoa developed an aluminium flake that could be mixed with lacquer. This style of finish had been around for a while but these larger flakes became very popular with automotive hot-rodders as a way of adding movement and interest to their finishes. Instrument manufacturers too had utilised sparkle finishes in production since the 1930s with drum manufacturers such as Ludwig wrapping their drum shells with sparkle poly material. Gretsch utilised this finish, borrowed from drum shell manufacture, on their guitars from 1955 to the early 60s.
Fender had from the beginning offered custom finishes as an option to players. As the popularity of this custom sparkle finish grew amongst the car community, it too was adopted by Fender. Customers were given the option to order the finish or to return their guitars so that it could be applied. Fender did not posses the right equipment to carry out the work so guitars were sent to local auto-shops. The ad-hoc nature off this work and the non-existent record keeping of the time means that each one of these instruments is shrouded in mystery.
This particular example has been studied by many experts in the field and is without a doubt, an original sparkle finish and one of the finest examples of its kind.
Famous exponents of the sparkle finish included Dick Dale who not only had his Stratocasters finished in metal flake but also sent the instruments of his band the Del-tones back to Fender to be refinished in matching surf burst finish. These instruments are document in the 1963 film 'Beach Party'. In 1964, Country singer Buck Owens commissioned a pair of Custom Telecasters in silver sparkle with checkerboard binding, one for himself and the other for his guitarist Don Rich.
This actual guitar is featured in the 'Fender - The Golden Years 1946-1970' book on page 193 alongside a plethora of superb guitars, amps and other Fender paraphernalia painstakingly documented by Paul Kelly, it looks even more impressive up close. One of the book's authors has offered a theory that this guitar belonged to Nick O'Malley of the The Deltones who were Dick Dale's band during his heyday in the early 60's.
There are some photographs and a video taken from the film 'A Swingin' Affair' from 1963 of Nick playing a Jazzmaster with what appears to be a gold finish and an anodised pickguard. Martin Kelly believes that this guitar is the same guitar you see here and that it was repainted with the green surf burst you see now, however in later pics and videos Nick O' Malley is seen with a later 60's Jazzmaster with a nitrate guard, also in surf burst but what looks like a silver undercoat. As there were no records kept it is impossible to corroborate. Having said that and whatever the history actually is, this guitar is surely the definition of a cool head-turner.
This is the recent-ish history of this guitar as far as we know - it used to belong to Norman Harris (Norms Rare Guitars) and was in his private collection for years. Some time ago the former owner of Vintage And Rare Guitars finally persuaded Norm to part with it who then subsequently stashed it in his own private collection for many more years before finally parting with it in 2012. We recently bought it from the person who acquired it from V&R in 2012.
Included in the pack that comes with this guitar is a COA from Vintage and Rare Guitars that has a valuation made at the time it was last sold (2012) and their theory on the provenance of the guitar. We are not selling this guitar on the basis it having a famous owner, it may have, it may not, we are selling it on its own merits as being one of the finest examples of an original sparkle finish guitars out there with some possible interesting provenance.
The 'surfburst' finish has survived well without fading noticeably, a fact that's clear when you look under the anodised pickguard. Where there has been some damaged to the body you can see the black base coat that would have been applied before the metal flakes to accentuate their effect. Whoever was given the job of applying the finish did an excellent job and it has definitely stood the test of time.
The neck is in great shape. It features a wonderfully dark and super thick, early rosewood slab-board, the neck date reading November 1958. The lacquer on the back is in great shape, a few knocks but it hasn't worn through to the wood. The frets have seen better days and are worn quite low with repeated dressing. having said that it still plays well. The headstock and decal are in fantastic shape too.
The hardware is in good condition. The anodised pickguard shows no signs of wear apart from a few minor scratches and the saddles and tuners show some minor corrosion.
Electronically all solder joint look to be undisturbed, the main pots dated 1958 and late 1956. The whole guitar (and the strap!) black lights perfectly and lights up very strongly.
The guitar comes with its correct Tweed hardshell case. It also contains an original 50s strap, just like you see with the early Teles and Broadcasters that has been painted and modified to match the guitar.
Sonically this guitar bears all those classic early Jazzmaster hallmarks. The rhythm circuit transitions nicely into the lead without the harshness that can be present in later iterations. The guitar truly runs the gamut from mellow to twangy without ever getting unplesant and the tremolo is truly the icing on the cake.
This truly is a one of a kind guitar that represents a historically signifiant period in the history of Fender and of American popular culture. These sparkle finished instruments can be seen as the very pinnacle of Fender custom guitars of the period, each with their own unique story and look.
As so few exist and there are no records, they evoke a more freewheeling time and the aspirations of a company trying to assert themselves at the dawn of a new decade. You won't see another like this and neither will we…
We are finding this difficult to put a value on, so we are initially opening this up for offers. please get in touch if you are at all interested and we'll see what sort of offers come through..
Availability:
Out Of Stock
Add To Your Wishlist
Send to a friend
Recommend this to a friend by entering their email address in the box below.