1952 Fender Telecaster + OSSC
1952 Fender Telecaster + OSSC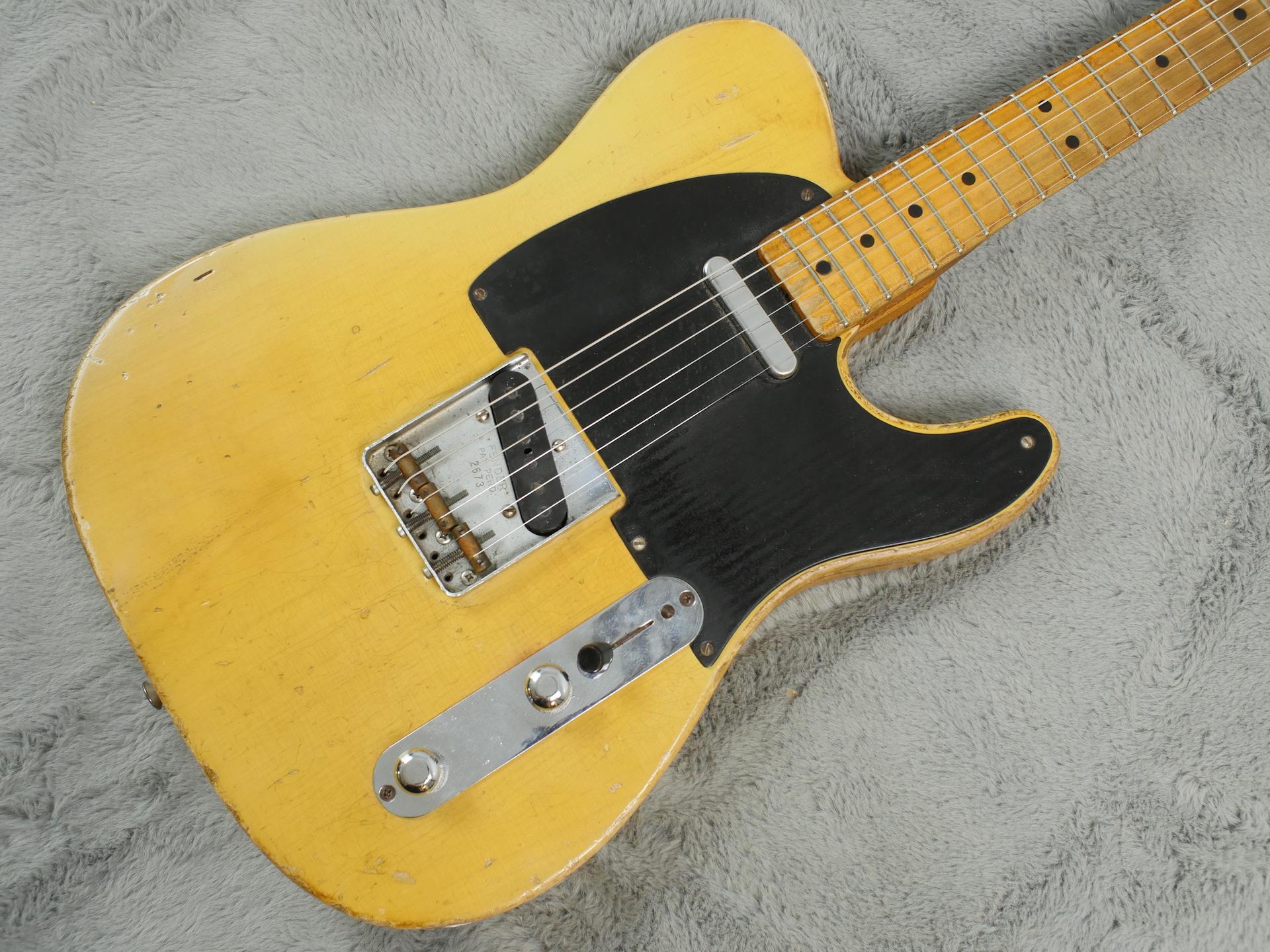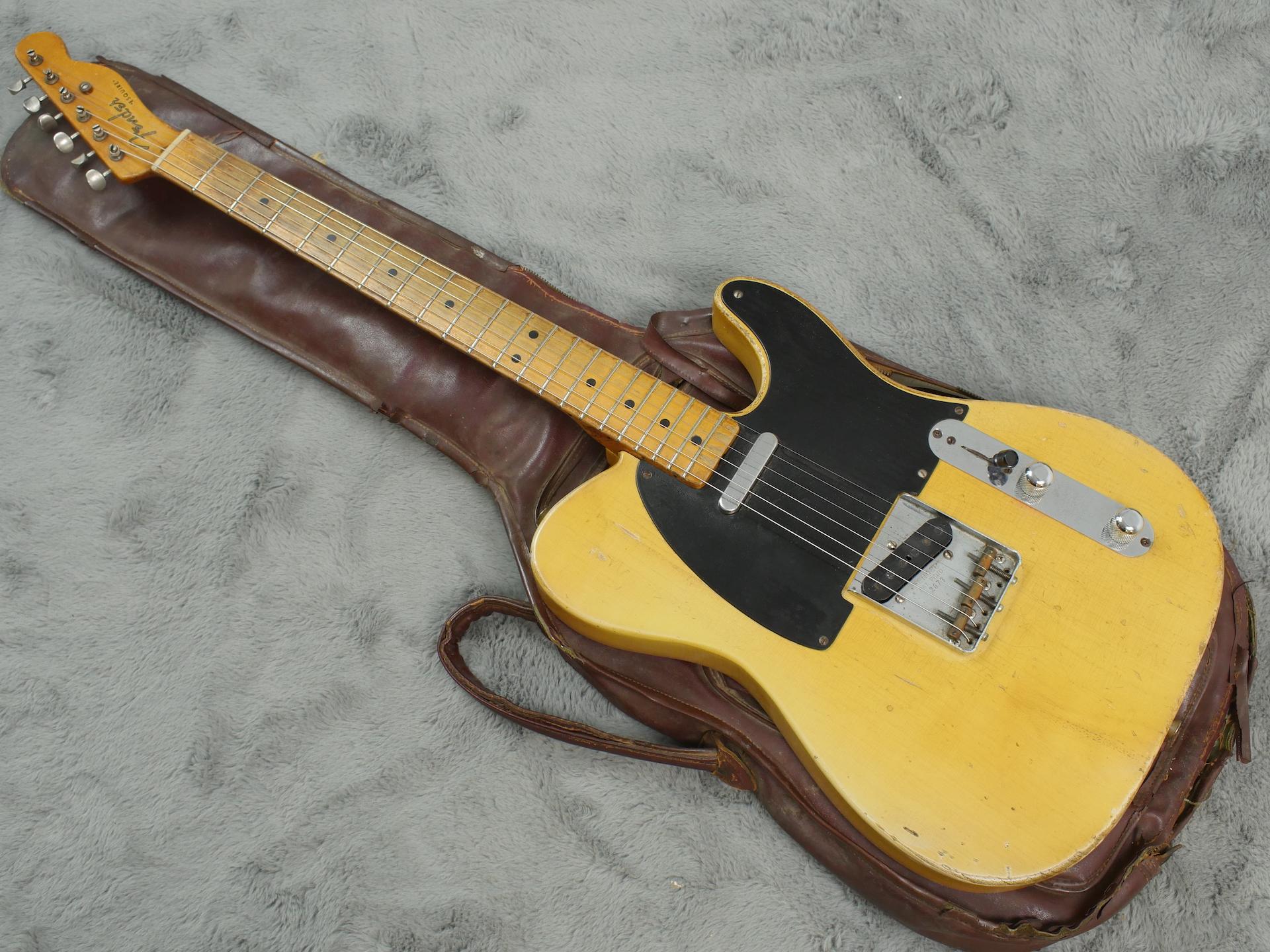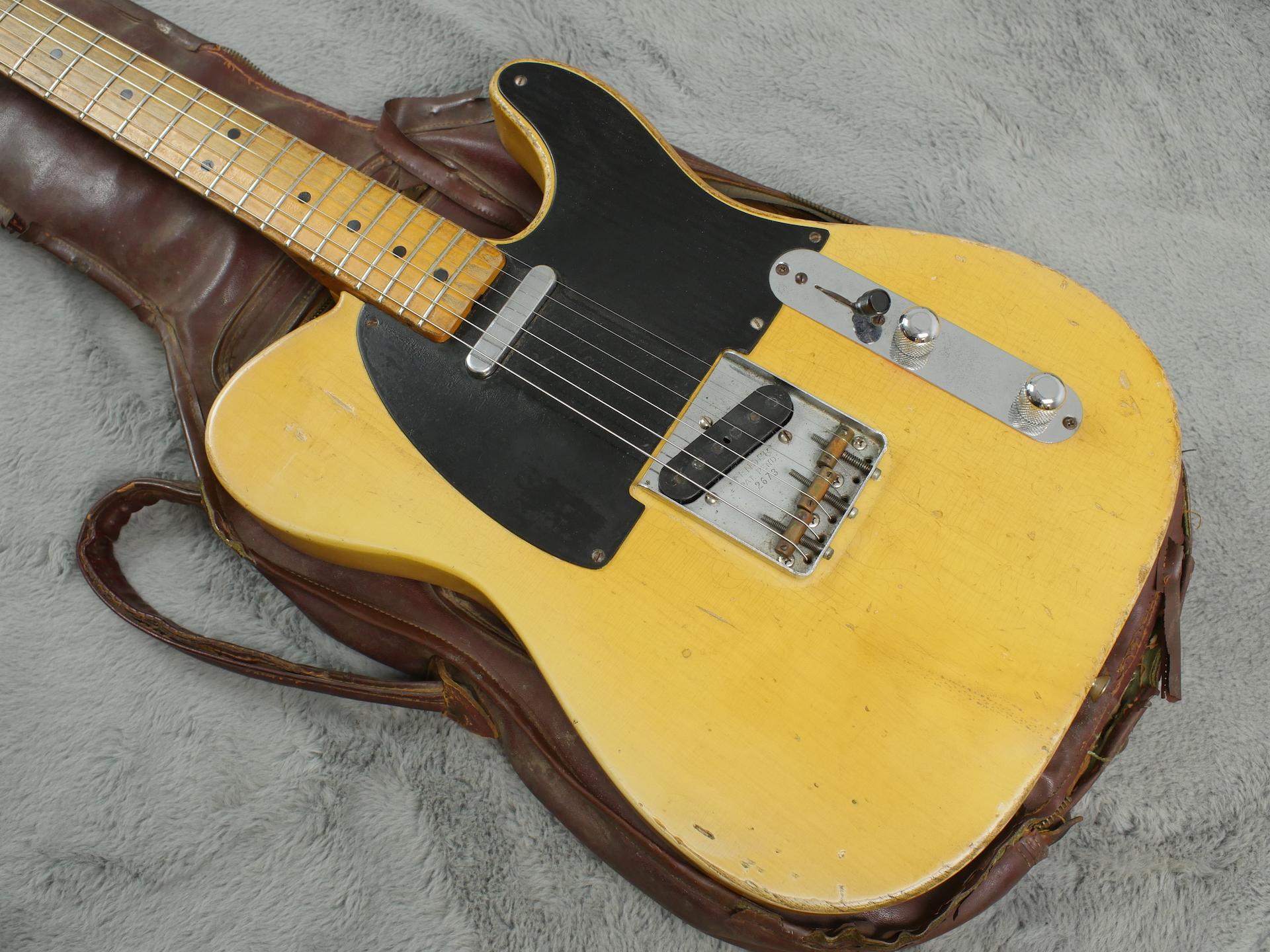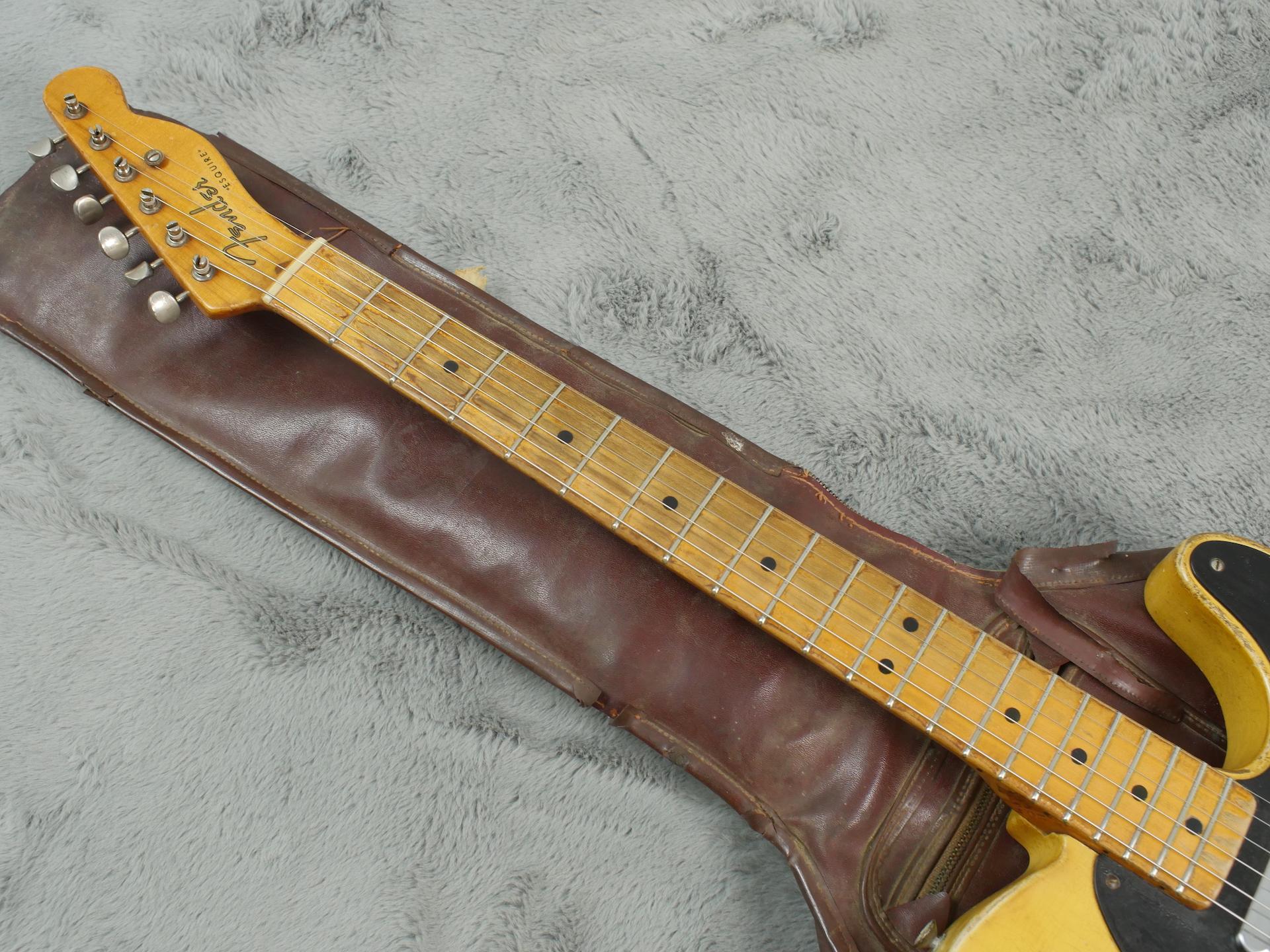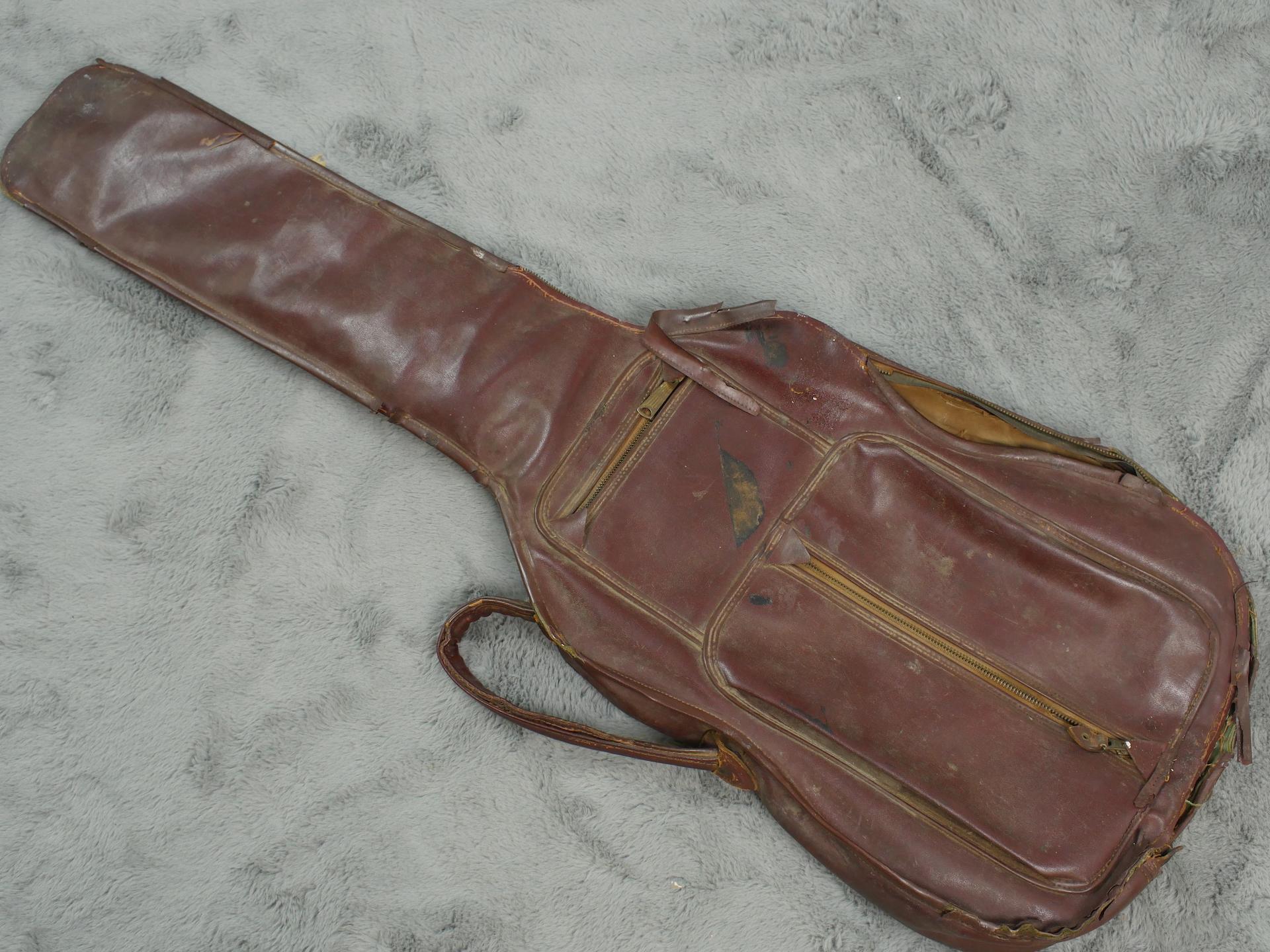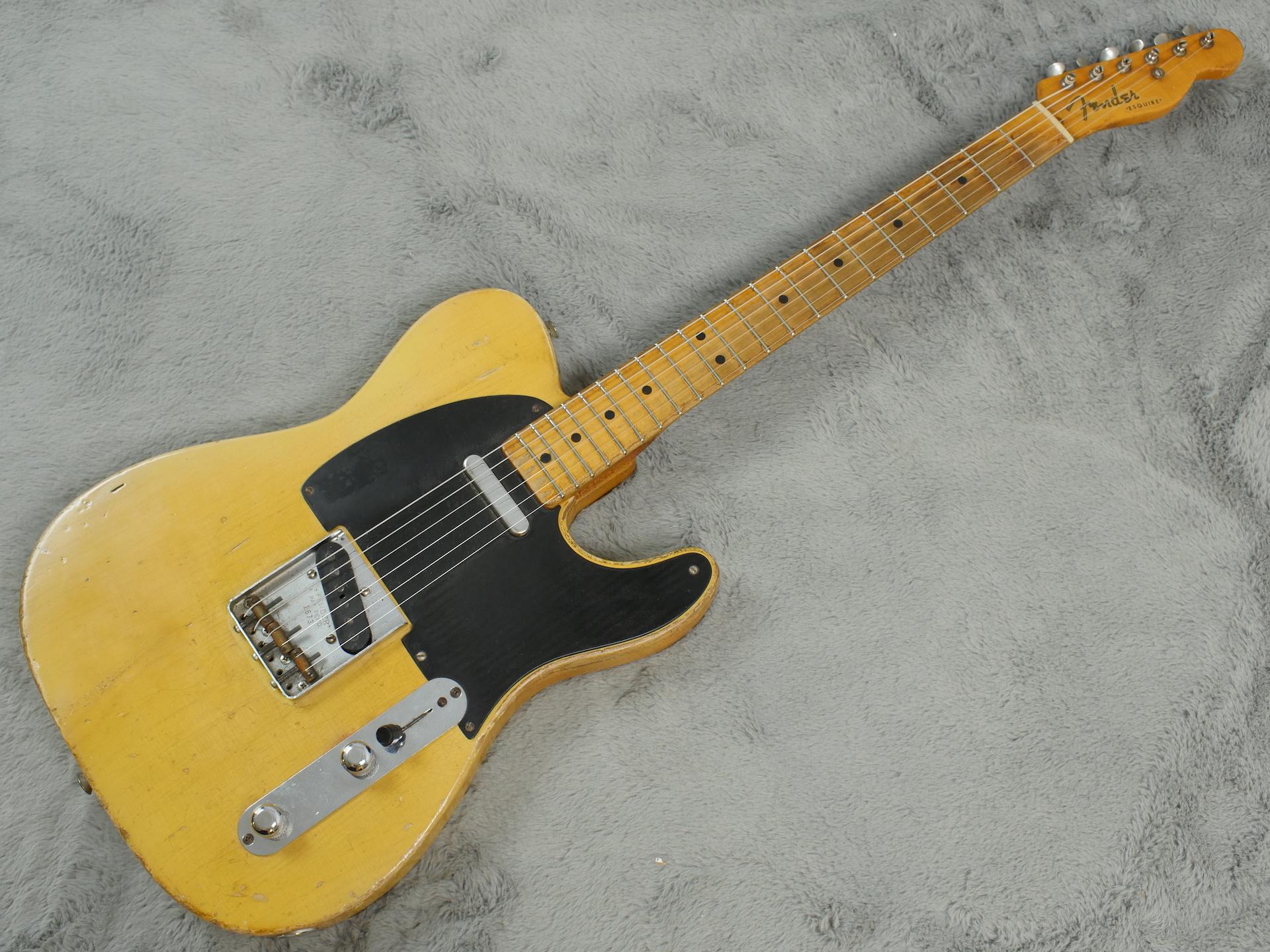 Roll over the image to zoom in
At A Glance:
Model: Telecaster
Year: 1952
Finish: Blonde
Modifications: None
Repairs: Refret
Weight (kg): 3.01
---
Case: Correct Softshell case
Fingerboard: Maple
Tuners: Correct Kluson Single Line
Pickups: 2 x Correct Single Coil
Hardware: Correct Chrome
Neck Profile: D profile
Pots: 2 x Correct 250k Stackpole
---
Here's something quite special… An ultra light weight, 1952 Telecaster which barely tips the scales at 3Kg - 3.01Kg to be exact and has an Esquire neck that looks like it was one of the Esquires sent back to the factory early in its life for the $15 upgrade to become a Telecaster.
GE Smith has one exactly like this (there is a video on YouTube of him explaining this). Apparently, if you sent your Esquire back to Fullerton they replaced the guard with a genuine Tele black guard, added the neck pickup and re configured the wiring to a Tele, all for the princely sum of 15 bucks. Further evidence of this theory are the actual dates of the body and the neck - the neck is dated within 4 days of the body in August 1952 and the original black guard has never been cut out anywhere. Even the wiring is exactly as a 52 Telecaster would be and not an Esquire.
All correct finish, electrics and hardware. Yes, it has been played and in fact according to the dealer we bought it from it was played 3 nights a week for 46 years at a downtown C&W bar in South Carolina before it was eventually retired about 15 years ago. It was then very carefully refretted, without any fingerboard sanding, for the first time in its life as the original frets were so worn they were almost down to bare wood. Frets that were installed are very good matches to the originals and they compliment this vintage Tele incredibly well.
I think you can see from the wear on the fingerboard this is not a guitar which has been in the closet all of its life! It has numerous dings, dongs some buckle rash and even some bar room tobacco smoke residue in places however this Tele has never been abused by the look of it, there has never been any repairs, breaks or finish touch ups anywhere at all and personally, we quite like vintage Teles like this, it just adds to the enormous character they have.
Neck was hand finished by Tadeo Gomez and completed by him on August 8th 1952. Body was hand finished by a chap called Davis and was completed 4 days later on August 12th 1952. Serial number is 2673 and the pots we can read are dated 22nd week of 1952. Patina under neck plate matches body and patina under the neck matches the body too.
Original or correct pickguard is in very good condition with no cracks but has typically worn lacquer and shows the stripy constituents of the material it is made from in places. This looks very cool we think. All other hardware is correct including the no line Kluson tuners which all work fine and it is quite rare to come across a Tele from this era with not a single tuner replaced.
Sound is well… total Tele heaven. It just does not get much better than this and both pickups do their magic using the original blend control circuit to good effect. Back pickup is the heart of these Teles and this one is a tone king in this respect. Come and play it and see for yourself - it is here in our showroom and has in its short time here become a firm store favourite.
Included is a correct Telecaster gig bag which is original but the zippers do not work however at least it is intact, not falling to bits and it is the correct gig bag for this guitar and is a rare sight to see over here in the UK.
So, do not expect an under the bed find with this one however, if you are seeking an original 52 Tele with tons of character, that sounds as good as any Tele you will find and is under 30k then this is something you should definitely consider….
Availability:
Out Of Stock
Add To Your Wishlist
Send to a friend
Recommend this to a friend by entering their email address in the box below.